"Transfer" Case to be investigated
9th May 1947
Page 43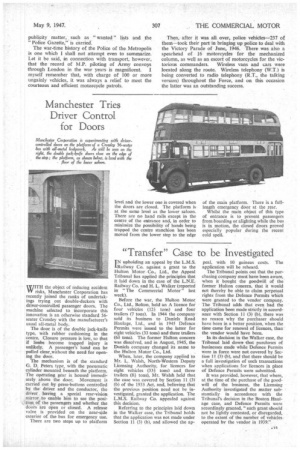 Page 43, 9th May 1947 —
"Transfer" Case to be investigated
Close
IN upholding an appeal by the L.M.S. 1-Railway Co. against a grant to the Hulton Motor Co., Ltd., the Appeal Tribunal has applied the principles that it laid down in the case of the L.N.E. Railway Co. and H. L. Walker (reported in " The Commercial Motor" last week).
Before the war, the Hutton Motor Co., Ltd., Bolton, held an A licence for four vehicles on tons) and four trailers (7 tons). In 1944 the company sold its business to Daniels Road Haulage, Ltd., and in 1945 Defence Permits were issued to the latter for eight vehicles (33 tons) and three trailers (64 tons). The former Hutton concern Was dissolved, and in August, 1945, the Daniels company changed its name to the Hutton Motor Co., Ltd.
When, later, the company applied to Mr. L. Walsh, North-Western Deputy Licensing Authority, for licences for eight vehicles (334. tons) and three trailers (81 tons), Mr. Walsh held that the case was covered by Section 11(3) (b) of the 1933 Act, and, believing that the previous position need not be investigated, granted the application_ The L.M.S. Railway Co. appealed against this decision.
Referring to the principles laid down in the Walker case, the Tribunal holds that the application was not made under Section 11(3) (b), and allowed the ap
peal, with 10 guineas costs. The application will be reheard.
The Tribunal points out that the purchasing company must have been aware, when it bought the goodwill of the former Holton concern, that it would not thereby be able to claim perpetual rights from the Defence Permits which were granted to the vendor company. The Tribunal adds that even had the application been made strictly in accordance with Section 11 (3) (b), there was no reason why the purchaser should have been in a better position, when the time came for renewal of licences, than the vendor would have been.
In its decision in the Walker case, the Tribunal laid down 'that purchases of businesses made while Defence Permits were in force were not covered by Section 11 (3) (b), and that there should be a full investigation of such transactions when applications for licences in place of Defence Permits were submitted_ It was provided, however, that where, at the time of the purchase of the goodwill of the business, the Licensing Authority investigated the matter substantially in accordance with the Tribunal's decision in the Boston Haulage case, and Defence Permits were accordingly granted, " such grant should not be lightly contested, or disregarded, to the extent of the number of vehicles operated by the vendor in 1939."