Manchester Tries Driver Control for Doors
9th May 1947
Page 43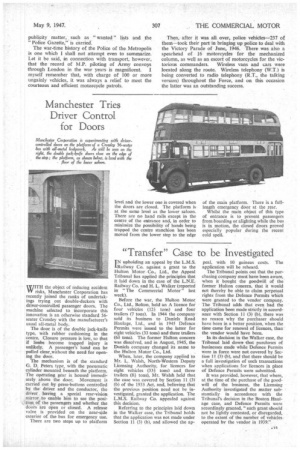 Page 43, 9th May 1947 —
Manchester Tries Driver Control for Doors
Close
WITH the object of reducing accident VY risks, Manchester Corporation has recently joined the ranks of undertakings trying out double-deckers with driver-controlled passenger doors. The machine selected to incorporate this innovation is an otherwise standard 56seater Crossley with the manufacturer's usual all-metal body.
The door is of the double jack-knife type, with rubber cushioning in the centre. Closure pressure is low, so that if limbs become trapped injury is unlikely. A passenger's hand can be pulled elear.without the need for opening the door.
The mechanism is of the standard G. D. Peters type, with the pneumatic cylinder mounted beneath the platform. The operating gear is housed immediately above the door. Movement is carried out by press-buttons controlled by the driver and the conductor, the driver having a special rear-vision mirror to enable him to see the position of the passengers and whether the doors are open or closed. A release valve is provided on the near-side exterior of the bus for emergency use.
There are two steps up to platform Level and the lower one is covered when the doors are closed. The platform is at the same level as the lower saloon. There are no hand rails except in the centre of the entrance and, in order to minimize the possibility of hands being trapped the centre stanchion has been moved from the lower step to the edge of the main platform. There is a fulllength emergency door at the rear.
Whilst the main object of this type of entrance is to prevent passengers from boarding or alighting while the bus is in motion, the closed doors proved especially popular during the recent cold spell.