Combined Heater arid De-froster Unit
9th May 1947
Page 34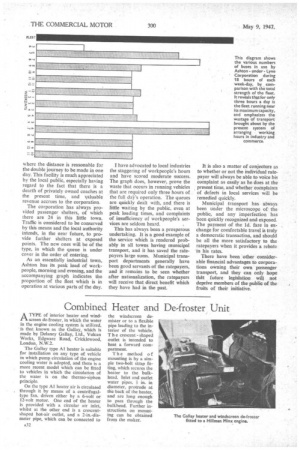 Page 34, 9th May 1947 —
Combined Heater arid De-froster Unit
Close
A TYPE of interior heater and wind
screen de-froster, in which the water in the engine cooling system is utilized, is that known as the Gallay, which is made by Delaney Gallay, Ltd, Vulcan Works, Edgware Road, Cricklewood. London, N.W2_ The Gallay type Al heater is suitable for installation on any type of vehicle in which pump circulation of the engine cooling water is adopted, and there is a more recent model which can be fitted to vehicles in which the circulation of the water is on the thermo-siphon principle.
On the type Al heater air is circulated through it by means of a centrifugaltype fan, driven either by a 6-volt or 12-volt motor. One end of the heater is provided with a circular air inlet, whilst at the other end is a crescentshaped hot-air outlet, and a 2-in.-diameter pipe, which can be connected to
the windscreen demister or to a flexible pipe leading to the interior of the vehicle. T h e crescent shaped outlet is intended to heat a forward compartment.
The method of mounting is by a simple two-bolt strap fitting, which secures the heater to the bulkhtcl. Inlet and outlet water pipes, in. in diameter. protrude at the back of the heater, and are long enough to pass through the bulkhead. Further instructions on mounting can be obtained from the maker.