ASHTON MAKES A PROFIT ON PRE-WAR FARES
9th May 1947
Page 32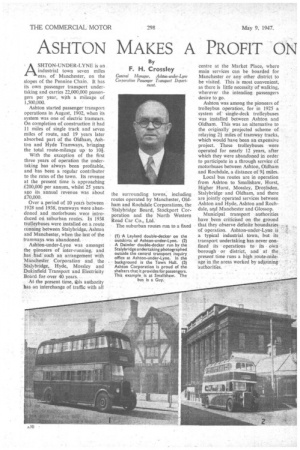 Page 33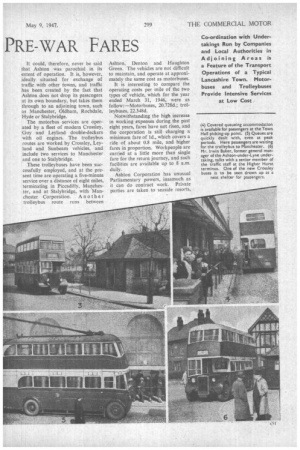 Page 34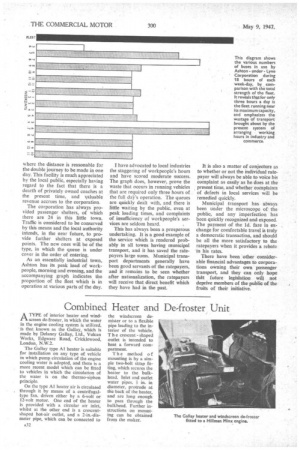 Page 32, 9th May 1947 —
ASHTON MAKES A PROFIT ON PRE-WAR FARES
Close
By
F. H. Crossley
General Manager, Ashton-uncler -Lane Car poration Passenger Transport Depart merzt.
ASHTOASHTON-UNDER-LYNE is an. industrial town seven miles N-UNDER-LYNE of Manchester, on the slopes of the Pennine Chain. It has its own passenger transport undertaking and carries 22,000,000 passengers per year, with a mileage of 1,500,000.
Ashton started passenger transport operations in August, 1902, when its system was one of electric tramcars. On completion of construction it had 11 miles of single track and seven miles of route, and 19 years later absorbed part of the Oldham, Ashton and Hyde Tramways, bringing the total route-mileage up. to 10f.
With the exception of the first three years of operation the undertaking has always been profitable, and has been a regular contributor to the rates of the town. Its revenue at the present time is approaching £200,000 per annum, whilst 25 years ago its annual revenue was about £70.000.
Over a period of 10 years between 1928 and 1938, tramways were abandoned and motbrbuses were introduced oil suburban routes'. In 1938 trolleybuses.were installed on a route running between Stalybridge, Ashton and Manchester, when the last of the tramways was abandoned.
Ashton-under-Lyne was amongst the vioneers of inter-running, and has had such an arrangement with Manchester Corporation and the -Stalybridge, . Hyde, Mossley and Dukinfield Transport and Electricity Board for over 40 years.
Ai the present time this authority has an interchange of traffic with all the surrounding towns, including routes operated by Manchester, Oldham and Rochdale Corporations, the Stalybridge Board, Stockport Corporation and the North Western Road Car Co., Ltd.
The suburban routes run to a fixed centre at the Market Place, where main services can be boarded for Manchester or any other district to be visited. This is most convenient, as there is little necessity of walking, wherever the intending passengers desire to go.
Ashton was among the pioneers of trolleybus operation, for in 1925 a system of . single-deck trolleybuses was installed between Ashton and Oldham. This was an alternative to the originally projected scheme of relaying 2i miles of tramway tracks, which would have been an expensive project. These trolleybuses were operated for nearly 12 years, after which they were abandoned in order to participate in a through service Of motorbuses between Ashton, Oldham and Rochdale, a distance of 91 miles.
Local bus routes are in operation from Ashton. to Smallshaw, Hurst, Higher Hurst, Mossley, Droylsden, Stalybridge and Oldham, and there are jointly operated services between Ashton and Hyde, Ashton and Rochdale, and Manchester and Glossop.
Municipal transport authorities have been criticised on the ground that they observe definite boundaries of operation. Ashton-under-Lyne is a typical industrial town, but its transport undertaking has never confined its operations to its oWn borough or district, and at the present time runs a high mute-mileage in the areas worked by adjoining 'authorities. It could, therefore, never be said that Ashton was parochial in its extent of operation. It is, however, ideally situated for exchange of traffic with other towns, and traffic has been created by the fact that Ashton does not drop its passengers at its own boundary, but takes them through to an adjoining town, such as Manchester, Oldham, Rochdale, Hyde or Stalybridge.
The motorbus services are operated by a fleet of modern Crossley, Guy and Leyland double-deckers with oil engines. The trolleybus routes are worked by Crossley, Leyland and Sunbeam vehicles, and include two services to Manchester and one to Stalybridge.
These trolleybuses have been successfully employed, and at the present time are operating a five-minute service over a distance of eight miles, terminating in Piccadilly, Manchester, and at Stalybridge, with Manchester Corporation. Another trolleybus route runs between Ashton, Denton and Haughton Green. The vehicles are not difficult to maintain, and operate at approximately the same cost as motorbuses.
It is interesting to compare the operating costs per mile of the two types of vehicle, which for the year ended March 31, 1946, were as follow:—Motorbuses, 20.728d.; trolleybuses, 22.348d.
Notwithstanding the high increase in working expenses during the past eight years, fares have not risen, and the corporation is still charging a minimum fare of ld., which covers a ride of about 0.8 mile, and higher fares in proportion. Workpeople are carried at a little more than single fare for the return journey, and such facilities are available up to 8 a.m. daily.
Ashton Corporation has unusual Parliamentary powers, inasmuch as it can do contract work. Private parties are taken to seaside resorts, where the distance is reasonable for the double journey to be made in one day. This facility is much appreciated by the local public, especially having regard to the fact that there is a dearth of privately owned coaches at the present time, and valuable revenue accrues to the corporation.
The corporation has always provided passenger shelters, of which there are 24 in this little town_ Traffic is considered to be conserved by this means and the local authority intends, in the near future, to provide further shelters at exposed points. The new ones will be of the type, in which the queue is under cover in the order of entering.
As an essentially industrial town, Ashton has its peak load of workpeople, morning and evening, and the accompanying graph indicates the proportion of the fleet which is in operation at various parts of the day. I have advocated to local industries the staggering of workpeople's hours and have scored moderate success. The graph does, however, prove the waste that occurs in running vehicles that are required only three hours of the full day's operation. The queues are quickly dealt with, and there is little waiting by the public, even at peak loading times, and complaints of insufficiency of workpeople's services are seldom heard.
This has always been a prosperous undertaking. It is a good example of the service which is rendered probably in all towns having municipal transport, and it has saved the ratepayers large sums. Municipal transport departments generally have been good servants of the ratepayers, and it remains to be seen whether after nationalization, the ratepayers will receive that direct benefit which they have had in the past. It is also a matter of conjecture as to whether or not the individual ratepayer will always be able to voice his complaint as easily as he does at the present time, and whether complaints of defects in local services will be remedied quickly.
Municipal transport has always been under the microscope of the public, and any imperfection has been quickly recognized and exposed. The payment of the Id. fare in exchange for comfortable travel is truly a democratic transaction, and should be all the more satisfactory to the ratepayers when it provides a rebate in his rates.
There have been other considerable financial advantages to corporations owning their own passenger transport, and they can only hope that future legislation will not deprive members of the public a the fruits of their initiative_