Passenger Transport News
9th May 1947
Page 31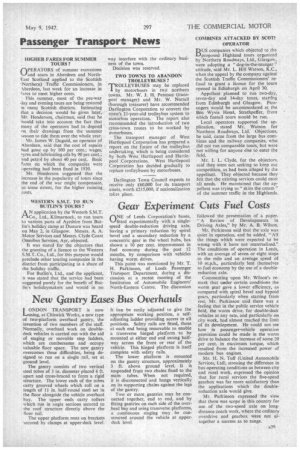 Page 31, 9th May 1947 —
Passenger Transport News
Close
HIGHER FARES FOR SUMMER TOURS?
OPERATORS of summer excursions and tours in Aberdeen and NorthEast Scotland applied to the Scottish ,Northern) Traffic Commissioners, in kberdeen, last week for an increase in fares to meet higher costs.
This summer, most of the pre-war 'lay and evening tours are being restored in many Scottish districts. Intimating that a decision would be given later, Mr. Henderson, chairman, said that he would take into account the fact that many of the operators had to depend on their drawings from the summer season to tide them over the whole year.
Mr. James W. Duguid, an operator of kberdeen, said that the cost of repairs had gone up by 100 per cent.; wages; tyres and lubricating oils by 90 per cent.; and petrol by about 40 per cent. Basic fares on which the companies were operating had been fixed in 1930.
Mr. Henderson suggested• that the increase in the popularity of tours since the end of the war might compensate, to some extent, for the higher running.. costs.
WESTERN S.M.T. TO RUN BUTLIN'S TOURS?
AN application by the Western S.M.T. Co., Ltd., Kilmarnock, to run tours to various parts of Ayrshire from Butlin's holiday camp at Dunure was heard on May 2, in Glasgow. Messrs. A. A. Motor Services and Messrs. Clyde Coast Omnibus Services, Ayr, objected.
It was stated for the objectors that the granting of a licence to the Western S.M.T. Co., Ltd., for this purpose would preclude other touring companies in the district from participating in a share of the holiday traffic.
For Butlin's, Ltd., and the applicant, it was stated that the service had been suggested purely for the benefit of Butlin's holidaymakers and would in no way interfere with the ordinary business of the town.
Decision was reserved.
TWO TOWNS TO ABANDON TROLLEYBUSES ?
TROLLEYBUSES may be replaced by motorbuses in two northern towns. Mr. W. J. H. Penman (transport manager) and Mr. W. Nuttall (borough treasurer) have recommended Darlington Corporation to convert the town's 21-year-old trolleybus system to motorbus operation. The report also recommended the introduction of two cross-town routes to be worked by motorbuses.
The transport manager of West Hartlepool Corporation has prepared a report on the future of the trolleybus undertaking, which is being considered by both West Hartlepool and Hartlepool Corporations. West Hartlepool Corporation has decided gradually to replace trolleybuses by motorbuses.
• Darlington Town Council expects to receive only £60,000 for its transport assets, worth £215,000, if nationalization takes place.