New Gantry Eas es Bus Overhauls
9th May 1947
Page 31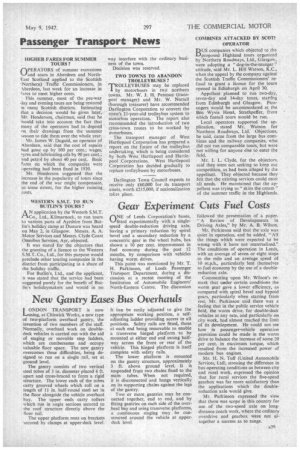 Page 31, 9th May 1947 —
New Gantry Eas es Bus Overhauls
Close
I ONDON TRANSPORT is now Lansing, at Chiswick Works, a new type of two-platform overhaul gantry, the invention of two members of the staff. Normally, overhaul work on doubledeck vehicles is carried out with the aid of staging or movable step ladders, which are cumbersome and occupy valuable floor space. The new gantry overcomes these difficulties, being designed to run on a single rail, set at ground level.
The gantry consists of two vertical steel tubes of 3 in. diameter placed 6 ft. apart and cross-braced to form a rigid structure. The lower ends of the tubes carry grooved wheels which roll on a length of 1i in. half-round steel set in the floor alongside the vehicle overhaul bay. The upper ends carry rollers which run in angle sections secured to the roof structure directly above the floor rail.
The upper platform rests on brackets secured by clamps at upper-deck level. It Can be easily adjusted to give the appropriate working position, a selfadjusting ladder .providing access in all positions. Safety rails are fitted, those at each end being removable to enable a transverse hinged platform to be mounted at either end and swung halfway across the front or rear of the vehicle. This hinged platform is itself complete with safety rails. The lower platform is mounted on the gantry structure, approximately 3 ft. above ground level. It is suspended frqm two chains fixed to the main tubes. When not required, it is disconnected and hangs vertically on its supporting chains against the legs of the gantry.
Two or more gantries may be connected together,' end to end, and by fitting gantries on each side of the over.haul bay and using transverse platforms, a continuous staging may be constructed around the vehicle at upperdeck level.