Gear Experiment Cuts Fuel Costs n NE of Leeds Corporation's buses,
9th May 1947
Page 31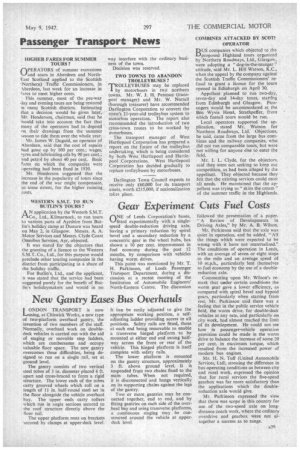 Page 31, 9th May 1947 —
Gear Experiment Cuts Fuel Costs n NE of Leeds Corporation's buses,
Close
\--/fitted experimentally with a singlespeed double-reduction driving axle, having a primary reduction by spiral bevel and a secondary reduction by a concentric gear in the wheel hubs, has shown a 10 per cent. improvement in fuel economy during the past 12 months, by comparison with vehicles having worm drives.
This point was mentioned by Mr. T. H. Parkinson, of Leeds Passenger Transport Department, during a discussion at a recent meeting of the Institution of Automobile Engineers' North-Eastern Centre. The discussion followed the presentation of a paper, " A Review of Developments in Driving Axles," by Mr. A. B. Wilson.
Mr. Parkinson said that the axle was quiet in operation, and he added, All the things which were expected to be wrong with it have not materialized." The conditions of operation in Leeds, with an average of seven or eight stops to the mile and an average speed of 10 m.p.h., particularly lent themselves to fuel economy by the use of a doublereduction axle.
Commenting upon Mr. Wilson's remark that wader certain conditions the worm gear gave a lower efficiency, as compared with spiral bevel and hypoid gears, particularly when starting from rest, Mr. Parkinson said there was a feeling that in the public service vehicle field, the worm drive, for double-deck vehicles at any rate, and particularly on city work, had almost reached the limit of its development. He could not see how in passenger-vehicle operation provision could be made in the worm drive to balance the increase of some 20 per cent, in maximum torque, which resulted from the increased power of modern bus engines.
Mr. H. N. Tuff (United Automobile Services, Ltd), stressing the difference in bus operating conditions as between city and rural work, expressed the opinion that for rural services the five-speed gearbox was far more satisfactory than the applications which the doublereduction axle would give.
Mr. Parkinson expressed the view that there was scope in this country for use of the two-speed axle on longdistance coach work, where the ordinary overdrive and gearbox were not altogether a success as to range.