COMBINES ATTACKED BY SCOV. OPERATOR
9th May 1947
Page 31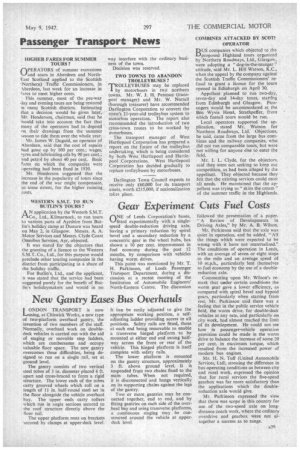 Page 31, 9th May 1947 —
COMBINES ATTACKED BY SCOV. OPERATOR
Close
Keywords :
Subdivisions Of Scotland
,
Geography Of Scotland
,
Geography Of The United Kingdom
,
Council Areas Of Scotland
,
Districts Of Scotland
,
Lieutenancy Areas Of Scotland
,
Scottish Malt Whisky
,
Conscientious Objection
,
Conscientious Objector
,
Glasgow
,
Ben Wyvis
,
Edinburgh
,
Hospitality / Recreation
BUS companies which objected to the proposed Highland tours organized by Northern Roadways, Ltd., Glasgow, were adopting a "dog-in-the-manger ? attitude, said Mr. L. Hill Watson, K.C., when the appeal by the company against the Scottish Traffic Commissioners' refusal to grant a licence for the tours opened in Edinburgh on April 30.
• Appellant planned to run two-day, seven-day and 14,day tours, starting from Edinburgh and Glasgow. Passengers would be accommodated at the Ben Wyvis Hotel, Strathpeffer, from which fantail tours would be run.
Local operators supported the application, stated Mr. Watson for Northern Roadways, Ltd. Objections, he said, came from the large bus combines and the railway companies, who did not run comparable tours, but were not willing for anyone else to enter the field.
Mr. J. L. Clyde, for the objectors, said they were not seeking to keep out competition, as had been alleged by the appellant. They objected because they felt that the existing services could meet all needs. He maintained that the appellant was trying to skim the cream of the summer traffic in the Highlands.