Personal Pars
9th May 1947
Page 29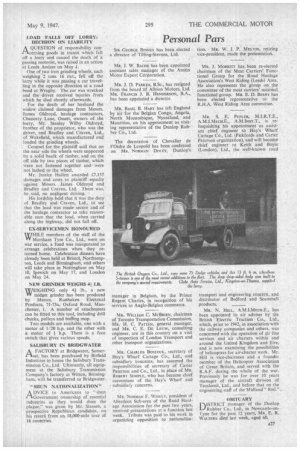 Page 29, 9th May 1947 —
Personal Pars
Close
Keywords :
SIR GEORGE 13INNEY has been elected a director of Tilling-Stevens, Ltd.
MR. J. W. BACHE has been appointed assistant sales manager of the Austin Motor Export Corporation..
MR. J. D. PARKES, B.Sc., has resigned from the board 'of Albion Motors, Ltd. MR. FRANCIS J. B. HENDERSON, B.A., has been appointed a director.
MR. BASIL B. HART has left England by air for the Belgian Congo, Angola, North Mozambique, Nyasaland, and Mauritius, on his appointment as visiting representative of the Dunlop Rubber Co, Ltd.
The decoration of Chevalier de l'Ordre de Leopold has been conferred on MR. NORMAN DotEv, Dunlop's manager in Belgium, by the Prince Regent Charles, in recognition of his services to Anglo-Belgian commerce.
MR. WILLIAM C. MCBRIEN, chairman of Toronto Transportation Commission, MR. H. C. PATTEN, general manager, and Ma. C. E. DE Leow, consulting engineer, are in this country on a visit of inspection of London Transport and other transport organizations. • MR. CHARLES Bos•rocx, secretary of Hay's Wharf. Cartage Co., Ltd., and subsidiary concerns, has assumed the responsibilities of secretary of Carter Paterson and Co., Ltd., in place of MR. ROBERT SEMPLE, who has become chief accountant of the Hay's Wharf and • subsidiary concerns.
MR. NORMAN F. WISELY, president of Aberdeen Sub-area of the Road Haulage Association for the past two years, received presentations at a function last week. Tribute was paid to his work in organizing opposition to nationaliza
tion. MR. W. J. P. MELVIN, retiring vice-president, made the preientation.
MR. J. Moaarrr has been re-elected chairman of the Meat Carriers' Functional Group for the Road Haulage Association's West Riding (Leeds) Area. He also represents the group on the committee of the meat carriers' national functional group, Ma. E. D. BERRY has been elected representative to the West Riding Area committee.
MR. S. E. PEPLER, M.I.R.T.E., .A.M.INsr.T., is relinquishing his appointment as assistant chief engineer to Hay's Wharf Cartage Co., Ltd. (Pickfords and Carter Paterson organization), and will become chief engineer to Keith and Boyle (London), Ltd., the well-known road traniport and engineering concern, and distributor of Bedford and Seammell products.
MR. N. HILL, A.M.I.MEctLE., has been appointed its air adviser by' the British Electric Traction Co., Ltd., which, prior to 1942, in association with the railway companies and others. was concerned with the operation of air line services and air charters within and around the United Kingdom and Eire, and is now examining the possibilities of helicopters for air-charter work. Mr. Hill is vice-chairman and a founder member of the Helicopter Association of Great Britain,• and served with the R.A.F. during the whole of the war. Previously he was for over 10 years manager of the aircraft division of Tecalemit, Ltd., and before that on the engineering staff of the Midland.Red." ..
Tags
People
:
J. D. PARKES
,
NORMAN F. WISELY
,
WILLIAM C. MCBRIEN
,
BASIL B. HART
,
ROBERT SEMPLE
,
J. W. BACHE
,
J. P. MELVIN
,
H. C. PATTEN
,
FRANCIS J. B. HENDERSON
,
J. Moaarrr
,
S. E. PEPLER
,
N. HILL