Passing Comments
9th May 1947
Page 24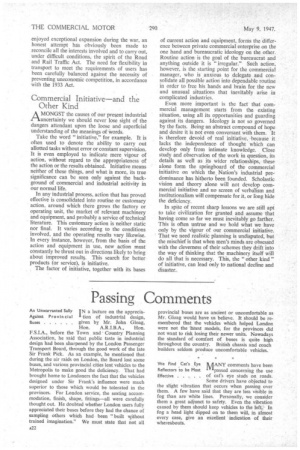 Page 25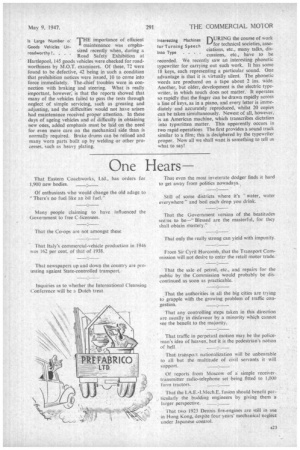 Page 24, 9th May 1947 —
Passing Comments
Close
An Unwarranted Sally IN a lecture on the apprecia Against Pro v in eial tion of industrial design, Buses given by Mr. John Gloag, Hon. A.R.I.B.A., Hon. F.S.I.A., before the Town and• Country Planning Association, he said that public taste in industrial design had been sharpened by the London Passenger Transport Board, through the good work of the late Sir Frank Pick. As an example, he mentioned that during the air raids on London, the Board lost some buses, and various provincial cities lent vehicles to the Metropolis to make good the deficiency. That had brought home to Londoners the fact that the vehicles designed under Sir Frank's influence were much superior to those which would be tolerated in the provinces. For London service, the seating accommodation, finish, shape, fittings—all were carefully thought out. He doubted whether London users fully appreciated their buses before they had the chance of sampling others which had been "built vOthout trained imagination." We must state that not all provincial buses are as ancient or uncomfortable as Mr. Gloag would have us believe. It should be remembered that the vehicles which helped London were not the 'latest models, for the provinces did not want to risk losing their newer units. Nowadays the standard of comfort of buses is quite high throughout the country. British chassis and coach builders seldom produce uncomfortable vehicles.
We Find Cat's Eye MANY comments have been Reflectors to be Most 1I-passed concerning the use Effective of cat's eye studs on roads.
Some drivers have objected to the slight vibration that occurs when passing over them. A few have said that they are less visible in fog than are white lines, Personally, we consider them a great adjunct to safety. Even the vibration caused by them should keep vehicles to the left. In fog a head light dipped on to them will, in almost every case, give an excellent indication of their whereabouts. Is Large -Number o: rT.HE importance of efficient
Goods Vehicles Unmaintenance was empha roadworth sized recently when, during a y ?. . . .
Road Safety Exhibition at Hartlepool, 145 goods vehicles were checked for roadworthiness by M.O.T. examiners. Of these, 72 were found to be defective, 42 being in such a condition that prohibition notices were issued, 10 to come into force immediately. The.chief troubles were in connection with braking and steering. What is really important, however; is that the reports showed that many of the vehicles failed to pass the tests through neglect of simple servicing, such as greasing and adjusting, and the difficulties would not have arisen• had maintenance received proper attention. In these days of ageing vehicles and of difficulty in obtaining new ones, added emphasis must be laid on the need for even more care on the mechanical side than is normally required. Brake drums can be relined and many worn parts built up by welding or other processes, such as heavy plating.
Interesting Machines for Turning Speech
DURING the course of work for technical societies, asso
Into T e ciations, etc., many talks, dis
yp. . . .
cussions, etc., have to be recorded. We recently saw an interesting phonetic typewriter for carrying out such work. It has some 18 keys, each representing a particular sound. One advantage is that it is virtually silent. The phonetic words are produced on a tape about 2 ins. wide. Another, but older, development is the electric typewriter, in which touch does not matter. It operates so rapidly that the finger can be drawn rapidly across a line of keys, as in a piano, and every letter is immediately and accurately reproduced, whilst 20 copies can be taken simultaneously. Newest of all, however, is an American machine, which transcribes dictation into typwritten matter. This apparently occurs in two rapid operations The first provides a sound track similar to a film; this is deciphered by the typewriter proper. Now all we shall want is something to tell us what to say!