ONE HEARS
9th May 1918
Page 3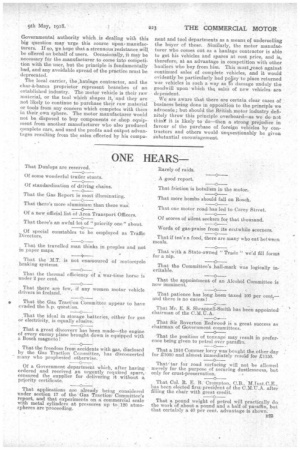 Page 3, 9th May 1918 —
ONE HEARS
Close
That Dunlops are reserved.
Of some wonderful trailer stunts.
Of standardization of driving chains.
That the Gas Report is most illuminating.
That there's more aluminium than there was.
Of a new .official list of Area Transport Officers.
That there's. an awful lot of "priority one" about.
Of special constables to be employed as Traffic Directors.
That the travelled man thinks in peoples and not in paper maps.
That the M.T. is not enamoured of motorcycle braking systems.
That the thermal efficiency Of a war-time horse is under 2 per cent.
That there are few, if any women motor vehicle drivers in Ireland. '
• That the Gas Tract;on Committee appear to have evaded the h.p. question.
That the ideal in storage batteries, either for gas or electricity, is equally elusive.
That a great discovery has been made—the engine of every enemy plane brought down is equipped with a Bosch magneto !
That the freedom from accidents with gas, disclosed by the Gas Traction Committee, has disconcerted many who prophesied otherwise. .
Of a Government department which, after having ordered and received an urgently required spare, censured the aupplier for delivering it without a, priority certificate.
That applications are , already being considered under section 17 of the Gas. TractionCommittee's report, and that experiments on a commercial scale with metal cylinders at pressures up to ..120 atmospheres are 'proceeding. Rarely of raids.
A good report.
That friction 'is botulism in the motor.
That naore bombs should fall on Bosch.
That one motor road/has led to Carey Street.
Of scores of silent seekers for that thousand. Words of gas-praise from its erstwhile scorners.
That if tea's a food, there are many who eat between meals.
Thatwith a State-owned " trade " we'd fill forms for a nip.
That the Committee's hall-mark was logically inevitable.
That the appointment of an Alcolial Committee is now imminent.
That patience has long been taxed 100 per cent— and there is no excess!
That Mr. E. S. Shrapnel-Smith has been appointed chairman of the C.M.U.A.
That Sir Boverton Redwood is a great success as chairman of Government committees.
"That the posit-ion of toneage may result in preference being given to petrol over paraffin.
That a 1,916 Comrn.er lorry was bolight the, other day for 21000 and almost immediately resold for £1150.
That,•tar for road surfacing will not be allowed merely for the purpose of securing dustlessness,• but only for crust-preservation.
That Col. R. E. Ba Crompton. C.B.. M.Titst.C.E., has been elected first president of the•C.M.U.A. after filling the chair with great credit.
That a 'pound weight of petrol will practically do the work of about a pound and a half of paraffin, but that certainly a 40 per cent, advantage is shown.