Road Transport Topics In Parliament
9th March 1940
Page 39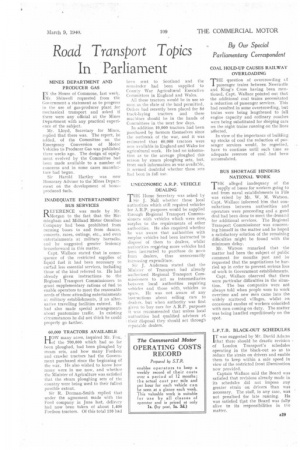 Page 39, 9th March 1940 —
Road Transport Topics In Parliament
Close
By Our Special Parliamentary Correspondent
MINES DEPARTMENT AND PRODUCER GAS I N the House of Commons, last week, Mr. Shinwell requested from the Government a statement as to progress in the use of gas-producer plant for mechanical transport and asked if there were any official at the Mines Department with any practical experience of the subject.
Mr. Lloyd, Secretary for Mines, replied that there was. The report, he added, of the Committee on the Emergency Conversion of Motor Vehicles to Producer Gas was published three weeks ago. The design of equipment evolved by the Committee had been made available to a number of concerns and in some cases manufacture had begun.
Sir Harold Hartley was now Honorary Adviser to the Mines Department on the development of homeproduced fuels.
INADEQUATE ENTERTAINMENT BUS SERVICES REFERENCE was made by . Mr. Morgan to the fact that the Birmingham and Midland Motor Omnibus Company had been prohibited from running buses to and from dances, concerts, races, outings, etc., and even entertainments at military barracks, and he suggested greater leniency henceforward in this matter.
Capt. Wallace stated that in consequence of the restricted supplies of liquid fuel it had been necessary to curtail less essential services, including those of the kind referred to. He had already given instructions to the Regional Transport Commissioners to grant supplementary rations of fuel to enable operators to meet the reasonable needs of those attending entertainments at military establishments, if no alternative travelling facilities existed. Ile had also made special arrangements about pantomime traffic. In existing circumstances he did not think he could properly go farther.
60,000 TRACTORS AVAILABLE
HOW many acres, inquired Mr. Fox, of the 700,000 which had so far been ploughed, had been ploughed by steam sets, and how many Fordson and crawler tractors had the Government purchased since the beginning of the war. He also wished to know how many were in use now, and Avhethn the Minister of Agriculture was satisfied that the steam ploughing sets of the country were being used to their fullest possible extent.
Sir R. Dorman-Smith replied that under the agreement made with the Ford company in June last, delivery had now been taken of about 1,400 Fordson tractors. Of this total 110 had been sent to Scotland and the remainder had been supplied 'to County War Agricultural Executive Committees in England and Wales.
All these tractors would be in use so soon as the slate of the land permitted. Orders had recently been placed for 5t) track-laying tractors and these machines should be in the hands of Committees in the next few days.
In addition 10,000 tractors had been purchased by farmers themselves since the outbreak of the war, and it was estimated that 60,000 tractors were now available in England and Wales for agricultural work. He had no information as to the acreage ploughed this season by steam ploughing sets, but, from such information as was available, it seemed doubtful whether these sets had been in full use.
UNECONOMIC A.R.P. VEHICLE DEALING
TilE Home Secretary was asked by .I. Sir J. Nall whether those local authorities which still required vehicles for A.R.P. purposes would be supplied through Regional Transport Commissioners with vehicles which were now, surplus to the requirements of other authorities. He also enquired whether he was aware that authorities with surplus vehicles had been instructed to dispose of them to dealers, whilst authorities reqyiring more vehicles had been instructed to purchase de novo from dealers, thus unnecessarily increasing expenditure.
Sir J. Anderson stated that the Minister of Transport had already authorized Regional Transport Commissioners to act as intermediaries beta ee n local authorities requiring vehicles and those with vehicles to spare. Ile was not aware of any instructions about selling cars to dealers, but when authority was first given to buy cars for A.R.P. purposes it was recommended that unless local authorities bad qualified advisers at • their disposal they should act through reputable dealers. COAL HOLD-UP CAUSES RAILWAY OVERLOADING
T"question of overcrowding a passenger trains between Newcastle and King's Cross having been mentioned, Capt. Wallace pointed out that the additional coal trains necessitated a reduction of passenger services. This had resulted in some overcrowding, but trains were being lengthened to full engine capacity and ordinary coaches were being substituted for sleeping cars on the night trains running on the lines affected.
In view of the importance of building up stocks of coal the reduction of passenger services would, he regretted, have to continue until such time as adequate reserves of coal .had been accumulated.
BUS SHORTAGE HINDERS NATIONAL WORK
THE alleged inadequacy of the supply of buses for workers going to and from naval establishments in Fife was raised by Mr. W. M. Watson. Capt. Wallace informed him that consultations between authorities and operators were proceeding and a good deal had been done to meet the demand for additional services. The Regional Transport Commissioner was concerning himself in the matter and he hoped a satisfactory solution of the remaining difficulties might be found with the minimum delay.
Mr. Watson remarked that the matter had been the subject of public comment for months past and he requested that the negotiations he hurried up in order to prevent serious loss of work in Government establishments.
Capt. Wallace observed that there were particular difficulties in the situation. The bus companies were not always told when people were to work overtime and new men came into the widely scattered villages, whilst an occasional exodus of workers coincided with men coming on duty. The matter was being handled expeditiously on the spot.
L.P.T.B. BLACK-OUT SCHEDULES
I T was suggested by Mr. David Adams that there should be drastic revision of London Transport's schedules operating in the black-out so as to reduce the strain on drivers and enable them to keep within a safe speed in view of the restricted front illumination now provided.
Captain Wallace said the Board was satisfied that revisions already made in its schedules did not impose any greater strain on drivers than was necessary. The staff, in any case, was not penalised for late running. He was satisfied that the Board was fully alive to its responsibilities in the matter.
Tags
People
:
Fox
,
Morgan
,
Lloyd
,
W. M. Watson
,
J. Anderson
,
R. Dorman-Smith
,
Shinwell
,
Wallace
,
J. Nall
,
Harold Hartley
,
David Adams