Minister Reassures C.M.U.A. Members
9th March 1940
Page 33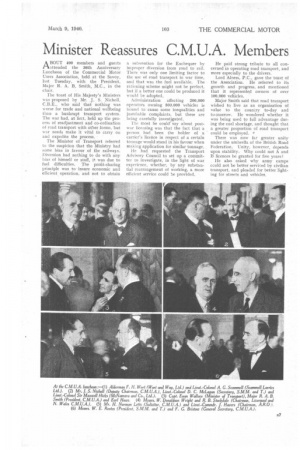 Page 33, 9th March 1940 —
Minister Reassures C.M.U.A. Members
Close
ABOUT 900 members and gueats attended the 36th Anniversary Luncheon of the Commercial Motor Users Association, held at the Savoy, last Tuesday, with the President, Major R. A. B. Smith, M.C., in the chair.
The toast of His Majesty's Ministers was proposed by Mr. J. S. Nichol], C.B.E., who said that nothing was worse for trade and national wellbeing than a bankrupt transport system. The war had, at firct, held up the process of readjustment and co-ordination of road transport with other forms, but war needs make it vital to carry on and expedite the process.
The Minister of Transport referred to the suspicion that the Ministry had some bias in favour of the railways. Diversion had nothing to do with any bias of himself or staff, it was due to fuel difficulties. The profit-sharing principle was to• insure economic and efficient operation, and not to obtain a subvention for the Exchequer by improper diversion from road to rail. There was only one limiting factor to the use of road transport in war time, and that was the fuel available. The rationing scheme might not he perfect, hut if a better one could be produced it would be adopted, Administration . affecting 200,000 operators owning 500,000 vehicles is bound to cause some inequalities and justifiable complaints, but these are being carefully investigated.
The most he could' say about postwar licensing was that the fact that a person had . been the holder of a carrier's licence in respect of a certain tonnage would stand in his favour when making application for similar tonnage.
He had requested the Transport Advisory Council to set up a committee to investigate, in the light of war experience, whether, by any substantial rearrangement of working, a more efficient service could be provided.
He paid strong tribute to all concerned in operating road transport, and more especially to the drivers.
Lord Alness, P.C., gave the Mast of the Association. He referred to its growth and progress, and mentioned that it represented owners of over 100,000 vehicles.
Major Smith said that road transport wished to live as an organization of value to the country to-day and to-morrow. He wondered whether it was being used to full advantage during the coal shortage, and thought that a greater proportion of road transport could be employed. •
There was now far greater unity under the umbrella of the British Road 'Federation. Unity, however, depends upon stability. Why could not A and B licences be granted for five years?
He also asked why army camps ceuld not be better servked by civilian transport, and pleaded for better lighting for streets and vehicles.