Side-lamp Mask Gives Good. Results on Test A LTHOUGH the
9th March 1940
Page 32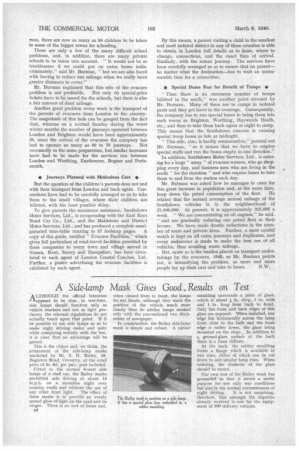 Page 32, 9th March 1940 —
Side-lamp Mask Gives Good. Results on Test A LTHOUGH the
Close
official intention &appears to be that, in war-time, side lamps should function only as vehicle markers and not as light producers, the relevant regulations do not actually touch upon that point. If it be possible to use side lamps so as to make night driving easier and safer while complying entirely with the law, it is clear that an advantage will be gained.
This is the object and, we think, the attainment of the side-lamp masks marketed by Mr, S. H. Bailey, 35, Baginton Road, Coventry, at the retail price of 3s. 6d. per pair, post included.
Fitted to the normal 6-watt side lamps of a staff car, the Bailey masks permitted safe driving at about 15 m.p.h. on a moonless night over country roads and without the use of any other front light. The effect of these masks is to provide an evenly spread glow of light on the road and its verges. There is no sort of beam and, n6 when viewed from in front, the lamps do not dazzle, although they mark the position of the vehicle much more clearly than do similar lamps masked only with the conventional two thicknesses of newspaper.
In construction, the Bailey side-lamp mask is simple and robust. A rubber
moulding surrounds a piece of glass, which is about in. deep, 1 in. wide and 1 in. long from back to front_ Only the front and back edges of this glass are exposed. When installed, one edge lies horizontally across the lamp front close to the bulb and the front edge is rather lower, the glass being mounted on the slope.. In addition to a ground-glass surface at the back there is a linen diffuser.
At the back, the rubber moulding forms a flange which is available in two sizes, either of which can be cut down to suit smaller lamp rims. When ordering, the diameter of the glass should be stated.
Our own test of the Bailey mask has Persuaded us that it serves a useful purpose for not only war conditions but also in the, normal circumstances of night driving. It is not surprising, therefore, that amongst the inquiries already received is one for the equipment of 100 delivery vehicles.