EVACUEES are CHANGING TRANSP( T PRINCIPLES on the SOUTH COAST
9th March 1940
Page 30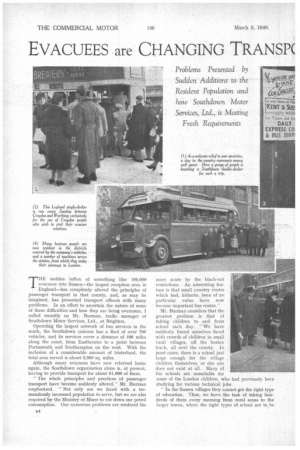 Page 31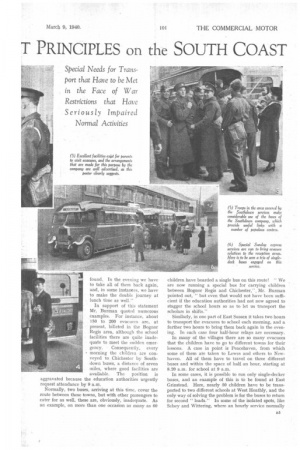 Page 32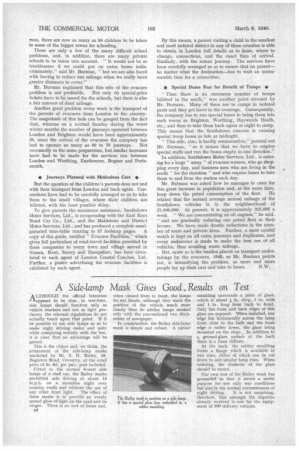 Page 30, 9th March 1940 —
EVACUEES are CHANGING TRANSP( T PRINCIPLES on the SOUTH COAST
Close
Problems Presented by Sudden Additions to the Resident Population and how Southdown Motor Services, Ltd., is Meeting
Fresh Requirements
Special Needs for Transport that Have to be Met in the Face of War Restrictions that Have Seriously Impaired
Normal Activities
THE sudden influx of something like 100,000 evacuees into Sussex—the largest reception area in England—has completely altered the principles of passenger transport in that county, and, as may be imagined, has presented transport officers with many problems. In an effort to ascertain the nature of some of these difficulties and how they are being overcome, I called recently on Mr. Burman, traffic manager of Southdown Motor Services, Ltd., at Brighton.
Operating the largest network of bus services in the south, the Southdown concern has a fleet of over 700 vehicles, and its services cover a distance of 100 miles along the coast, from Eastbourne to a point between Portsmouth and Southampton on the west. With the inclusion of a considerable amount of hinterland, the total area served is about 3,000 sq. miles.
Although many evacuees have now returned home again, the Southdown organization alone is, at present, having to provide transport for about 61,000 of them.
"The whole principles and practices of passenger transport have become suddenly altered," Mr. Burman emphasized. " Not only are we faced with a tremendously increased population to serve, but we are also required by the Ministry of Mines to cut down our petrol consumption. Our numerous problems are rendered the more acute by the black-out restrictions. An interesting feature is that small country routes which had, hitherto, been of no particular value have now become important bus routes."
Mr. Burman considers that the greatest problem is that of taking children to and from school each day. " We have suddenly found ourselves faced with crowds of children in small rural villages, off the beaten track, all over the county. In most cases, there is a school just large enough for the village children themselves, or else one does not exist at all. Many of the schools are unsuitable for some of the London children, who had previously been studying for various technical jobs.
" In the Sussex villages they cannot get the right type of education, Thus, we have the task of taking hundreds of them every morning from rural areas to the larger towns, where the right types of school are to be found. In the evening we have to take all of them back again, and, in some instances, we have to make the double journey at lunch time as well."
In support of this statement Mr. Burman quoted numerous examples. For instance, about 150 to 200 evacuees are, at present, billeted in the Bognor Regis area, although the school facilities there are quite inadequate to meet the sudden emergency. Consequently, every morning the children are conveyed to Chichester by Southdown buses, a distance of seven miles, where good facilities are available. The position is aggravated because the education authorities urgently request attendance by 9 a.m.
Normally, two buses, arriving at this time, cover the route between these towns, but with other passengers to cater for as well, these are, obviously, inadequate. As an example, on more than one occasion as many as 60
children have boarded a single bus on this route! " We are now running a special bus for carrying children between Bognor Regis and Chichester,", Mr. Burman pointed out, " but even that would not have been sufficient if the education authorities had not now agreed to stagger the school hours so as to let us transport the scholars in shifts."
Similarly, in one part of East Sussex it takes two hours to transport the evacuees to school each morning, and a further two hours to bring them back again in the evening. In each case four half-hour relays are necessary.
In many of the villages there are so many evacuees that the children have to go to different towns for their lessons. A case in point is Peacehaven, from which some of them are taken to Lewes and others to Newhaven. All of them have to travel on three different buses and within the space of half an hour, starting at 8.20 a.m. for school at 9 a.m.
In some cases, it is possible to run only single-decker buses, and an example of this is to be found at East Grinstead. Here, nearly 50 children have to be transported to two different schools at West Hoathly, and the only way of solving the problem is for the buses to return for second "loads." In some of the isolated spots, like Selsey and Wittering, where an hourly service normally runs, there are now as many as 50 children to be taken to some of the bigger towns for schooling.
These are only a few of the many difficult school problems, and, in addition, there are many private schools to be taken into account. " It would not be so troublesome if we could put on extra buses indiscriminately," said Mr. Burman, "but we are also faced with having to reduce our mileage when we really have greater distances to cover."
Mr. Burman explained that this side of the evacuee problem is not profitable. Not only do special,price tickets have to be issued for the schools, but there is also a fair amount of dead mileage.
• Another great problem every week is the transport of the parents of evacuees from London to the country. The magnitude of this task can be gauged from the fact that, whereas on a normal Sunday during the worst winter months the number of journeys operated between London and Brighton would have been approximately 20, since the arrival of the evacuees the company has had to operate as many as 60 to 70 journeys. Not necessarily in the same proportions, but similar increases have had to be made for the services run between London and Worthing, Eastbourne, Bognor and Portsmouth.
• Journeys Planned with Meticulous Care •
But the question of the children's parents does not end with their transport from London and back again. Connections have had to be carefully arranged so as to take them to the small villages, where their children are billeted, with the least possible delay.
To give parents the maximum assistance, Southdown Motor Services, Ltd., is co-operating with the East Kent Road Car Co., Ltd., and the Maidstone and District Motor Services, Ltd., and has produced a complete amalgamated time-table running to 57 foolscap pages. A copy of this guide, entitled " Evacuee Facilities," which gives full particulars of road-travel facilities provided by these companies to every town and village served in Sussex, Kent, Surrey and Hampshire, has been circulated to each agent of London Coastal Coaches, Ltd. Further, a poster advertising the evacuee facilities is exhibited by each agent. By this means, a parent visiting a child in the smallest and most isolated district in any of these counties is able to obtain in London full details as to fares, where to change, connections, and the exact time of arrival. Similarly, with the return journey. The services have been carefully arranged so as to ensure that no parent— no matter what the destination—has to wait an unreasonable time for a connection.
• Special Buses Run for Benefit of Troops • "Then there is an enormous number of troops billeted in the south," was another point stressed by Mr. Burman. Many of them are in camps in isolated parts and they get leave in the evenings. Consequently, the company has to run special buses to bring them into such towns as Brighton, Worthing, Haywards Heath, .etc., and then to take them back again at night to camp. This means that the Southdown concern is running special troop buses as late as midnight.
"This side, also, is hardly remunerative," pointed out Mr. Burman, "as it means that we have to employ special staffs and run the buses empty in one direction."
In addition, Southdown Motor Services, Ltd., is catering for a large" army "of evacuee women, who go shopping every day, and business men who are living in the south " for the duration "and who require buses to take them to and from the station each day.
Mr. Burman was asked how he manages to cater for this great increase in population and, at the same time, keep down the petrol consumption of the fleet. He related that the normal average annual mileage of the Southdown vehicles is in the neighbourhood of 22,000,000. At present, it is approximately 325,000 a week. "We are concentrating on oil engines," he said, "and are gradually reducing our petrol fleet in their favour. We have made drastic reductions in the number of tours and private hires. Further, a most careful watch is kept on all extra journeys and duplicates, and every endeavour is made to make the best use of all vehicles, thus avoiding waste mileage.
But, acute as is the burden placed on transport undertakings by the evacuees, 1940, as Mr. Burman points out, is intensifying the problem, as more and more people lay up their cars and take to buses. N.W.