The Latest Wages Increase
9th March 1940
Page 24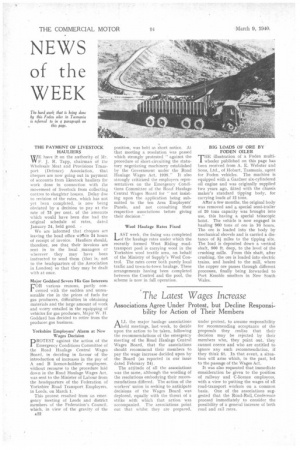 Page 24, 9th March 1940 —
The Latest Wages Increase
Close
Associations Agree Under Protest, but Decline Responsibility for Action of Their Members
ALL the major haulage associations held meetings, last ,week, to decide upon the action to be taken, following the recommendations of the emergency meeting of the Road Haulage Central Wages Board, that the associations should recommend their members to pay the wage increase decided upon by the Board (as reported in our issue dated February 24).
The attitude of all the associations was the same, although the wording of the resolutions embodying their recommendations differed. The action of the workers' union in seeking to anticipate decisions of the Wages Board was deplored, equally with the threat of a strike with which that action was accompanied. The associations point out that whilst they are prepared, under protest, to assume responsibility for recommending acceptance of tho proposals they realize that their decision may be rejected by their members who, they point out, they cannot coerce and who are entitled to ignore any such recommendation, if they think fit. In that event, a situation will arise which, in the past, led to the passage of the Wages Act.
It was also requested that immediate consideration be given to the position of railway and C-licence employees, with a view to putting the wages of all road-transport workers on a common basis. One of the associations suggested that the Road-Rail__Conference proceed immediately to consider the possibility of a general increase of both road and rail rates.