One Hears—
9th March 1940
Page 23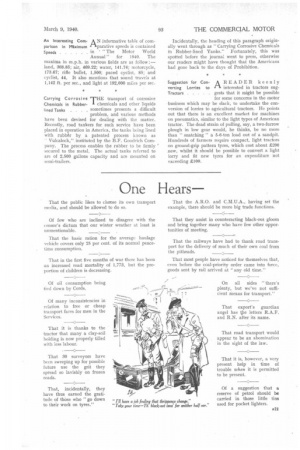 Page 23, 9th March 1940 —
One Hears—
Close
That the public likes to choose its own transport media, and should be allowed to do so.
Of few who are inclined to disagree with the censor's dictum that our winter weather at least is unmentionable. , That the basic ration for the average haulage vehicle covers only 25 per cent. of its normal peacetime consumption.
That in the first five months of war there has been an increased road mortality of 1,773, but the proportion of children is decreasing.
Of oil consumption being tied down by Cords.
Of many inconsistencies in relation to free or cheap transport fares for men in the Services.
That it is thanks to the tractor that many a clay-soil holding is now properly tilled with less labour.
That 30 surveyors have been sweeping up for possible future use the grit they spread so lavishly on frozen roads.
That, incidentally, they have thus earned the gratitude of those who "go down to their work on tyres." That the A.R.O. and C.M.U.A., having set the example, there should be more big trade functions.
That they assist in counteracting black-out gloom and bring together many who have few other opportunities of meeting.
That the railways have had to thank road transport for the delivery of much of their own coal from the pitheads.
That most people have noticed for themselves that, even before the coal-priority order came into force, goods sent by rail arrived at "any old time."
On all sides " there's plenty, but we've not sufficient means for transport."
That export's guardian angel has the letters R.A.F. and R.N. after its name.
That road transport would appear to be an abomination in the sight of the law.
That it is, however, a very present help in time of trouble when it is permitted to be present.
Of a suggestion that a reserve of petrol should be carried in those little tins used for pocket lighters.