Passing Comments
9th March 1940
Page 22
Page 23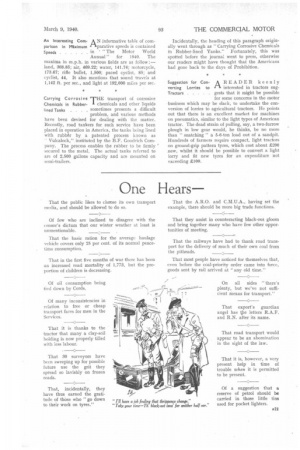 Page 22, 9th March 1940 —
Passing Comments
Close
Obviating Unequal nUR tyre expert referred in Pressure on Twinv-four issue for March 2 to the
tyred Wheels . . possibility of mounting twin
wheels so that they could individually position themselves to counter road camber. • He thought this had not been carried out in practice. Actually, we remember seeing at the International Motor Show in Berlin last year a device —introduced, we. believe, by the Continental Tyre Company—by which the individual wheels were carried on rubber cushions, thus, to an extent, compensating for any increase of loading on either. Also, in some German vehicles, the aides of the rear axle are canted to give a similar effect.
A20
Major Petrol Price WE may sometimes corn Variations Over 26 plain at the ,present price Years of petrol, but we must remem
ber that so far back as
January 1, 1914, it was Is. 9d. per gallon. The maximum cost was in August, 1920, when it reached 4s. 31c1., but dropped fairly consistently to Is. Ofd. in April, 1928. Its lowest during recent years was in 1934, when it fell to Is. 5d. After fluctuating between is. 6d, in 1935 and Is. 7id. in 1938, it dropped to Is. 6d. in September, 1939, but rose to Is. 8d. in October of that year. Some of the extreme variations have naturally been caused by the increases in taxation. An Interesting corn, A N informative table of comparison in Phiximum r-Iparative speeds is contained
Speeds in " The Motor World Annual" for 1940. The maxima in m.p.h. in various fields are as follow ;— land, 368.85; air, 469.22; water, 141.74; motorcycle, 173.67; rifle bullet, 1,500; paced cyclist, 85; and cyclist, 44. It also mentions that sound travels at 1,142 ft, per sec., and light at 192,000 miles per sec.
Carrying Corrosive THE transport of corrosive Chemicals in Rubber1 chemicals and other liquids lined Tanks sometimes presents a difficult
problem, and various methods have been devised for dealing with the matter. Recently, road tankers for such service have been placed in operation in America, the tanks being lined with rubber by a• patented process known as Vulcalock," instituted by the B.F. Goodrich Company. The process enables the rubber to be firmly ` secured to the metal. The actual tanks referred to are of 2,500 gallons capacity and are mounted on semi-trailers, Incidentally, the heading of this paragraph originally went through as " Carrying Corrosive Chemicals in Rubber-lined Yanks," Fortunately, this was spotted before the journal went to press, otherwise our readers might have thought that the Americans had gone back to the days of Prohibition.
Suggestion for ConA READER keenly verting Lorries to interested in tractors sug
Tractors gests that it might be possible for some concerns in the motor business which may be slack, to undertake the conversion of lorries to agricultural tractors. He points out that there is an excellent market for machines on pneumatics, similar to the light types of American tractor. The dead strain of pulling, say, a two-furrow plough in low gear would, he thinks, be no more than " snatching " a 5-6-ton load out of a sandpit. Hundreds of farmers require compact, light tractors on ground-grip pattern tyres, which cost about £200 new, whilst it should be possible to convert a light lorry and fit new tyres for an expenditure not exceeding £100.