Oil supplier fined £10,000 for polluting watercourse
9th June 2011
Page 9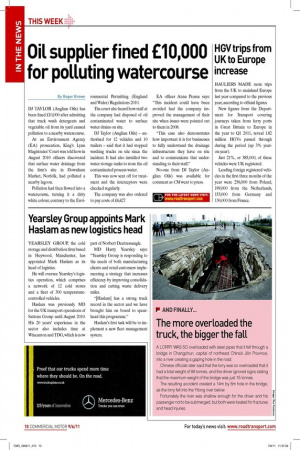 Page 9, 9th June 2011 —
Oil supplier fined £10,000 for polluting watercourse
Close
By Roger Brown
DJ TAYLOR (Anglian Oils) has been ined £10,000 after admitting that truck wash detergents and vegetable oil from its yard caused pollution to a nearby watercourse.
At an Environment Agency (EA) prosecution, King's Lynn Magistrates' Court was told how in August 2010 oficers discovered that surface water drainage from the irm's site in Downham Market, Norfolk, had polluted a nearby lagoon.
Pollution had then lowed into a watercourse, turning it a dirty white colour, contrary to the Envi ronmental Permitting (England and Wales) Regulations 2010.
The court also heard how staff at the company had disposed of oil contaminated water to surface water drains on site.
DJ Taylor (Anglian Oils) – authorised for 12 vehicles and 10 trailers – said that it had stopped washing trucks on site since the incident. It had also installed two water storage tanks to store the oil contaminated process water.
This was now sent off for treatment and the interceptors were checked regularly.
The company was also ordered to pay costs of £4,427. EA oficer Anna Pearce says: "This incident could have been avoided had the company improved the management of their site when issues were pointed out to them in 2008.
"This case also demonstrates how important it is for businesses to fully understand the drainage infrastructure they have on site and to communicate that understanding to their staff." No-one from DJ Taylor (Anglian Oils) was available for comment as CM went to press.