RHA 'uncomfortable' with VOSA and TCs' relationship
9th June 2011
Page 7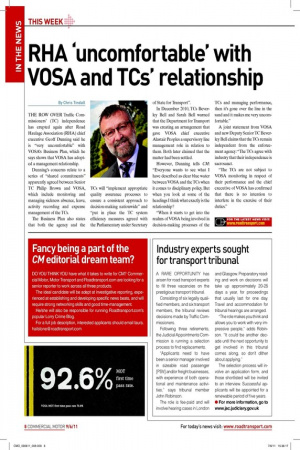 Page 7, 9th June 2011 —
RHA 'uncomfortable' with VOSA and TCs' relationship
Close
By Chris Tindall THE ROW OVER Trafic Commissioners' (TC) independence has erupted again after Road Haulage Association (RHA) chief executive Geoff Dunning said he is "very uncomfortable" with VOSA's Business Plan, which he says shows that VOSA has adopted a management relationship.
Dunning's concerns relate to a series of "shared commitments" apparently agreed between Senior TC Philip Brown and VOSA, which include monitoring and managing sickness absence, leave, activity recording and expense management of the TCs.
The Business Plan also states that both the agency and the TCs will "implement appropriate quality assurance processes to ensure a consistent approach to decision-making nationwide" and "put in place the TC system eficiency measures agreed with the Parliamentary under Secretary of State for Transport".
In December 2010, TCs Beverley Bell and Sarah Bell warned that the Department for Transport was creating an arrangement that gave VOSA chief executive Alastair Peoples a supervisory line management role in relation to them. Both later claimed that the matter had been settled.
However, Dunning tells CM: "Everyone wants to see what I have described as clear blue water between VOSA and the TCs when it comes to disciplinary policy. But when you look at some of the headings I think what exactly is the relationship?
"When it starts to get into the realms of VOSA being involved in decision-making processes of the TCs and managing performance, then it's gone over the line in the sand and it makes me very uncomfortable." A joint statement from VOSA and new Deputy Senior TC Beverley Bell claims that the TCs remain independent from the enforcement agency: "The TCs agree with industry that their independence is sacrosanct.
"The TCs are not subject to VOSA monitoring in respect of their performance and the chief executive of VOSA has conirmed that there is no intention to interfere in the exercise of their duties."