Richard Fry appointed as RHA chairman
9th June 2011
Page 6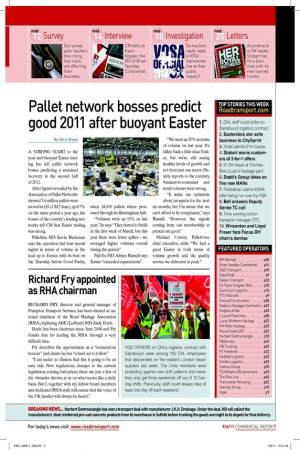 Page 6, 9th June 2011 —
Richard Fry appointed as RHA chairman
Close
RICHARD FRY, director and general manager of Frampton Transport Services, has been elected as national chairman of the Road Haulage Association (RHA), replacing ABE (Ledbury) MD Andy Boyle.
Boyle has been chairman since June 2008 and Fry thanks him for leading the RHA through a very dificult time.
Fry describes the appointment as a "tremendous honour" and claims he has "a hard act to follow".
"I am under no illusion that this is going to be an easy ride. New regulations, changes to the current legislation, soaring fuel prices, these are just a few of the obstacles thrown at us on what seems like a daily basis. But I, together with my fellow board members and dedicated RHA staff, will ensure that the voice of the LJK haulier will always be heard." HGV DRIVERS on DHL's logistics contract with Sainsbury's were among 100 DHL employees that descended on the retailer's London headquarters last week. The Unite members were protesting against new shift patterns that mean they only get three weekends off out of 12 fiveday shifts. Previously, staff could always take at least one day off each weekend.