Pallet network bosses predict good 2011 after buoyant Easter
9th June 2011
Page 6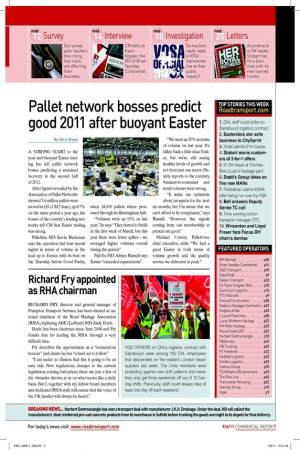 Page 6, 9th June 2011 —
Pallet network bosses predict good 2011 after buoyant Easter
Close
By Chris Druce
A STRONG START to the year and buoyant Easter trading has left pallet network bosses predicting a sustained recovery in the second half of 2011.
After igures revealed by the Association of Pallet Networks showed 3.6 million pallets were moved in Q1 (CM 2 June), up 8.7% on the same period a year ago, the bosses of the country's leading networks tell CM that Easter trading was strong.
Palletline MD Kevin Buchanan says the operation had four record nights in terms of volume in the lead up to Easter, with its best on the Thursday before Good Friday, when 14,000 pallets where processed through its Birmingham hub.
"Volumes were up 15% on last year," he says. "They started to build in the irst week of March, but this year there were fewer spikes – we averaged higher volumes overall during the period." Pall-Ex MD Adrian Russell says Easter "exceeded expectations" . "We were up 20% in terms of volume on last year. It's fallen back a little since Easter, but we're still seeing healthy levels of growth and not from just one sector. Despite reports to the contrary, business-to-consumer and retail volumes were strong.
"It make me optimistic about prospects for the next six months, but I'm aware that we can't afford to be complacent," says Russell. "However, the signals coming from our membership at present are good." Michael Conroy, Palletforce chief executive, adds: "We had a great Easter in both terms of volume growth and the quality service we delivered at peak."