The pink
9th June 2011
Page 34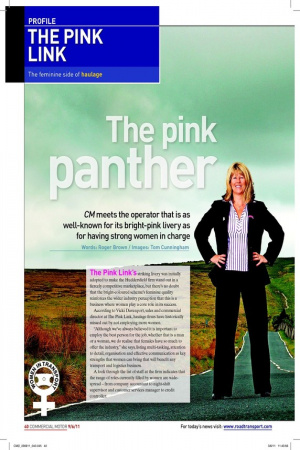 Page 36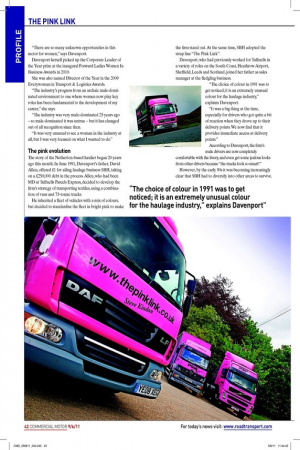 Page 37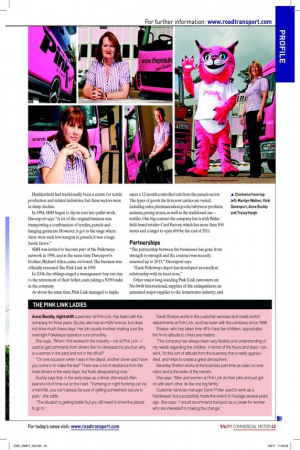 Page 39
Page 34, 9th June 2011 —
The pink
Close
anther
CM meets the operator that is as well-known for its bright-pink livery as for having strong women in charge Words: Roger Brown / Images: Tom Cunningham The Pink Link's striking livery was initially adopted to make the Huddersield irm stand out in a iercely competitive marketplace, but there's no doubt that the bright-coloured scheme's feminine quality reinforces the wider industry perception that this is a business where women play a core role in its success.
According to Vicki Davenport, sales and commercial director at The Pink Link, haulage irms have historically missed out by not employing more women.
"Although we've always believed it is important to employ the best person for the job, whether that is a man or a woman, we do realise that females have so much to offer the industry," she says, listing multi-tasking, attention to detail, organisation and effective communication as key strengths that women can bring that will beneit any transport and logistics business.
A look through the list of staff at the irm indicates that the range of roles currently illed by women are widespread – from company accountant to night-shift supervisor and customer services manager to credit controller. "There are so many unknown opportunities in this sector for women," says Davenport.
Davenport herself picked up the Corporate Leader of the Year prize at the inaugural Forward Ladies Women In Business Awards in 2010.
She was also named Director of the Year in the 2009 Everywoman in Transport & Logistics Awards.
"The industry's progress from an archaic male-dominated environment to one where women now play key roles has been fundamental to the development of my career," she says.
"The industry was very male-dominated 25 years ago – so male-dominated it was untrue – but it has changed out of all recognition since then.
"It was very unusual to see a woman in the industry at all, but I was very focused on what I wanted to do."
The pink evolution
The story of the Netherton-based haulier began 20 years ago this month. In June 1991, Davenport's father, David Allen, offered £1 for ailing haulage business SBH, taking on a £250,000 debt in the process. Allen, who had been VID at Tuffnells Parcels Express, decided to develop the irm's strategy of transporting textiles, using a combination of vans and 7.5-tonne trucks.
He inherited a leet of vehicles with a mix of colours, but decided to standardise the leet in bright pink to make the irm stand out. At the same time, SBH adopted the strap line "The Pink Link" .
Davenport, who had previously worked for Tuffnells in a variety of roles on the South Coast, Heathrow Airport, Shefield, Leeds and Scotland, joined her father as sales manager at the ledgling business.
"The choice of colour in 1991 was to get noticed; it is an extremely unusual colour for the haulage industry," explains Davenport.
"It was a big thing at the time, especially for drivers who got quite a bit of reaction when they drove up to their delivery points. We now ind that it provides immediate access at delivery points." According to Davenport, the irm's male drivers are now completely comfortable with the livery, and even get some jealous looks from other drivers because "the trucks look so smart!" However, by the early 90s it was becoming increasingly clear that SBH had to diversify into other areas to survive.
Huddersield had traditionally been a centre for textile production and related industries, but these sectors were in sharp decline.
In 1994, SBH began to dip its toes into pallet work. Davenport says: "A lot of the original business was transporting a combination of textiles, parcels and hanging garments. However, it got to the stage where there were such low margins in parcels, it was a huge hassle factor." SBH was invited to become part of the Palletways network in 1996, and at the same time Davenport's brother, Richard Allen, came on board. The business was oficially renamed The Pink Link in 1999.
In 2004, the siblings staged a management buy-out due to the retirement of their father, each taking a 50/50 stake in the company.
At about the same time, Pink Link managed to imple ment a 12-month controlled exit from the parcels sector. The types of goods the irm now carries are varied, including safes, pharmaceutical goods, babywear products, sealants, paving stones, as well as the traditional one – textiles. One big contract the company has is with Wakeield-based retailer Card Factory, which has more than 500 stores and a target to open 600 by the end of 2011.
Partnerships
"The partnership between the businesses has gone from strength to strength and the contract was recently renewed up to 2013," Davenport says.
"Each Palletways depot has developed an excellent relationship with its local store." Other major long-standing Pink Link customers are Nu-Swift International, supplier of ire extinguishers; an unnamed major supplier to the homewares industry; and Burton Safes, supplier of commercial safes.
Davenport adds: "Their requirements call for a reliable, fast and eficient distribution partner to ensure all deliveries are on time.
"Pink Link offers a consistent, reliable and cost-effective service for full, half and quarter pallets, including timed collections and deliveries.
"We also offer a combined service of storage and distribution, where we will store products, and deliver them the next day." The haulier currently covers the Halifax, Bradford and Huddersield postcodes – taking pallet loads to the network's central hub in Lichield, Staffordshire.
Davenport says: "The hub deals with 15,000 pallets every 24 hours; we average 500 to 600 a night going out, and up to 200 coming in.
"We are very happy just concentrating on Palletways and are keen to grow this business over the next few years. Partnership working is the way to go in the current haulage market."
Palletways
Recently, Pink Link was awarded Palletways' platinum partner status – the top level available.
The accreditation was based on Pink Link's high levels of service, ranging from delivery times to health and safety compliance.
During the assessment, which took place over a 12-month period, Pink Link scored 100% across all the KPI criteria.
Davenport believes that as old industries in the UK have declined, and the traditional ways of doing things in the haulage industry have faded, customer service has become key. She adds: "In the old days, there were no customer services departments at haulage irms.
"With our Palletways association, we are part of a network of more than 100, and our team has got to have strong networking as well as communication skills.
"Our staff has developed very close working relationships with our customers and the Palletways depots, and we believe this is the way to retain and increase business." Pink Link has been based at its current headquarters, nestling in a leafy valley in the rolling hills just outside the town centre, since 1994. The company employs 17 drivers, all of them full-time, and operates 20 vehicles. Some of the trucks are named after famous former Huddersield Town Football Club players such as Steve Kindon, Andy Booth, Trevor Cherry and Denis Law.
The company has an in-house maintenance facility for trucks and trailers, with two full-time mechanics.
Davenport says: "We ind it is still cost-effective to do it ourselves, but with the new generation of vehicles, the increasingly complicated diagnostics is a downside as the maintenance irms can have you over a barrel."
Tough times
So how has the company dealt with the economic downturn? "Over the past two or three years we have found that we are working harder for less," Davenport explains.
"The poor weather in December has a massive impact on January, and the pre-Christmas period was bad." Like many others in road transport, Davenport thinks the rising cost of fuel is the biggest challenge that the industry faces.
She says: "We have had a fuel escalator with customers since 2008, but it's still a very dificult time to be in this business.
"We supported the recent Quentin Willson FairFuelUK campaign against fuel duty rises that went to Westminster, but we don't support a go-slow.
"At the end of the day, the shelves need to be illed." So what does Davenport believe to be her biggest achievement?
"Positioning the brand to become so well-known, and to have made a lot of progress in a relatively short time," she says.
"Also, achieving a reputation for providing excellent value for money services, coupled with an after sales service that is second to none in the industry.
"It is an easy brand to promote and I don't think we would be where we are at the moment without it.
"I'm proud that we have developed a business where all our staff are very passionate about providing a high level of service, and that this always comes over to our customers." ■
Tags
People
:
Burton Safes
,
Trevor Cherry
,
Tom Cunningham
,
David Allen
,
Ladies Women
,
Roger Brown
,
Denis Law
,
Vicki Davenport
,
Pink Link
,
Richard Allen
,
Steve Kindon
,
Andy Booth