Efficient growth
9th June 2011
Page 26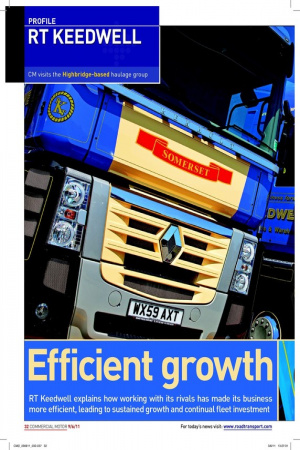 Page 27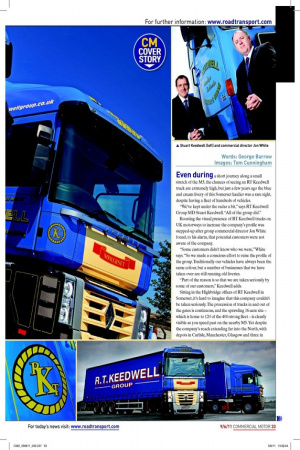 Page 28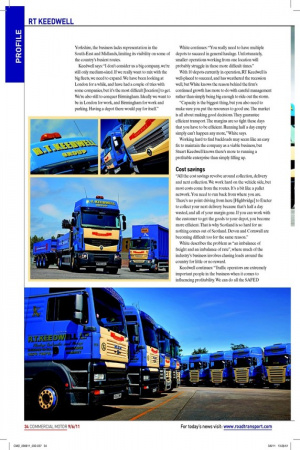 Page 29
Page 30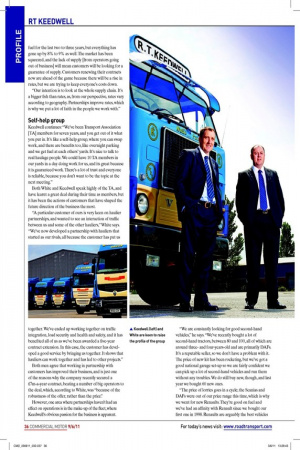 Page 31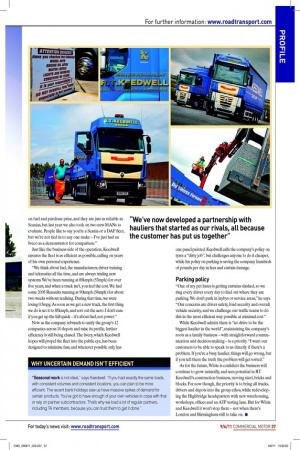 Page 26, 9th June 2011 —
Efficient growth
Close
RT Keedwell explains how working with its rivals has made its business more efficient, leading to sustained growth and continual fleet investment
Words: George Barrow Images: Tom Cunningham Even during a short journey along a small stretch of the M5, the chances of seeing an RT Keedwell truck are extremely high, but just a few years ago the blue and cream livery of this Somerset haulier was a rare sight, despite having a leet of hundreds of vehicles.
"We've kept under the radar a bit," says RT Keedwell Group MD Stuart Keedwell. "All of the group did." Boosting the visual presence of RT Keedwell trucks on UK motorways to increase the company's proile was stepped-up after group commercial director Jon White found, to his alarm, that potential customers were not aware of the company.
"Some customers didn't know who we were," White says. "So we made a conscious effort to raise the proile of the group. Traditionally our vehicles have always been the same colour, but a number of businesses that we have taken over are still running old liveries.
"Part of the reason is so that we are taken seriously by some of our customers," Keedwell adds.
Sitting in the Highbridge ofices of RT Keedwell in Somerset, it's hard to imagine that this company couldn't be taken seriously. The procession of trucks in and out of the gates is continuous, and the sprawling 16-acre site – which is home to 120 of the 400-strong leet – is clearly visible as you speed past on the nearby M5. Yet despite the company's reach extending far into the North, with depots in Carlisle, Manchester, Glasgow and three in Yorkshire, the business lacks representation in the South-East and Midlands, limiting its visibility on some of the country's busiest routes.
Keedwell says: "I don't consider us a big company, we're still only medium-sized. If we really want to mix with the big leets, we need to expand. We have been looking at London for a while, and have had a couple of tries with some companies, but it's the most dificult [location] to get. We're also still to conquer Birmingham. Ideally we want to be in London for work, and Birmingham for work and parking. Having a depot there would pay for itself." White continues: "You really need to have multiple depots to succeed in general haulage. Unfortunately, smaller operations working from one location will probably struggle in these more dificult times." With 10 depots currently in operation, RT Keedwell is well-placed to succeed, and has weathered the recession well, but White knows the reason behind the irm's continued growth has more to do with careful management rather than simply being big enough to ride out the storm.
"Capacity is the biggest thing, but you also need to make sure you put the resources to good use. The market is all about making good decisions. They guarantee eficient transport. The margins are so tight these days that you have to be eficient. Running half a day empty simply can't happen any more," White says.
Working hard to ind backloads may seem like an easy ix to maintain the company as a viable business, but Stuart Keedwell knows there's more to running a proitable enterprise than simply illing up.
Cost savings
"All the cost savings revolve around collection, delivery and next collection. We work hard on the vehicle side, but most costs come from the routes. It's a bit like a pallet network. You need to run back from where you are. There's no point driving from here [Highbridge] to Exeter to collect your next delivery because that's half a day wasted, and all of your margin gone. If you can work with the customer to get the goods to your depot, you become more eficient. That is why Scotland is so hard for us: nothing comes out of Scotland. Devon and Cornwall are becoming dificult too for the same reason." White describes the problem as "an imbalance of freight and an imbalance of rate" , where much of the industry's business involves chasing loads around the country for little or no reward.
Keedwell continues: "Trafic operators are extremely important people in the business when it comes to inluencing proitability. We can do all the SAFED training in the world, but those savings on fuel are insigniicant compared with the beneits of eficient, or the cost of ineficient, trafic planning." While RT Keedwell seems keen to examine and improve the way it operates internally, the way the company interacts with its customers is arguably making the biggest difference to the business. Rather than sit back and take work coming its way, RT Keedwell looks to sculpt and educate its customers to not only make its work more eficient, but also improve the customer's working practices and attitudes. Running a costand time-eficient service is paramount to its operation.
Best practice
"We would turn away work if it wasn't in our, or our customer's, interest," says White. "We work with the customer to establish best practice, and think about challenging the customer and asking the customer to challenge its customers. Only the eficient businesses have survived. In order for it [a contract] to work, you need a volume of vehicles and volume of locations, and it helps if the work and loads are consistent too. What we are trying to do is work with customers on their sales patterns to develop arrangements with their customers for their inished products." "Loads, location, and timing all affect costs," Keedwell adds, "so it is best to simplify tipping and loading as much as possible. It's only two hours up the road, but years ago we would never load back from Birmingham; now we have to for our sake, our carbon footprint, and our customers." The company's increasing drive for eficiency has led it in to a favourable position not only for itself but also its customers, but rates have yet to increase and operating costs have risen steeply across the board. Rather than focus on the rate achieved per load, RT Keedwell prefers to look at the bigger picture, using its resources wisely to make even poor rates work for them.
White says: "Everyone has been focused on the price of fuel for the last two to three years, but everything has gone up by 8% to 9% as well. The market has been squeezed, and the lack of supply [from operators going out of business] will mean customers will be looking for a guarantee of supply. Customers renewing their contracts now are ahead of the game because there will be a rise in rates, but we are trying to keep everyone's costs down.
"Our intention is to look at the whole supply chain. It's a bigger ish than rates, as, from our perspective, rates vary according to geography. Partnerships improve rates, which is why we put a lot of faith in the people we work with."
Self-help group
Keedwell continues: "We've been Transport Association [TA] members for seven years, and you get out of it what you put in. It's like a self-help group, where you can swap work, and there are beneits too, like overnight parking and we get fuel at each others' yards. It's nice to talk to real haulage people. We could have 10 TA members in our yards in a day doing work for us, and its great because it is guaranteed work. There's a lot of trust and everyone is reliable, because you don't want to be the topic at the next meeting." Both White and Keedwell speak highly of the TA, and have learnt a great deal during their time as members, but it has been the actions of customers that have shaped the future direction of the business the most.
"A particular customer of ours is very keen on haulier partnerships, and wanted to see an interaction of trafic between us and some of the other hauliers," White says. "We've now developed a partnership with hauliers that started as our rivals, all because the customer has put us together. We've ended up working together on trafic integration, load security and health and safety, and it has beneited all of us as we've been awarded a ive-year contract extension. In this case, the customer has developed a good service by bringing us together. It shows that hauliers can work together and has led to other projects." Both men agree that working in partnership with customers has improved their business, and is just one of the reasons why the company recently secured a £7m-a-year contract, beating a number of big operators to the deal, which, according to White, was "because of the robustness of the offer, rather than the price".
However, one area where partnerships haven't had an effect on operations is in the make-up of the leet, where Keedwell's obvious passion for the business is apparent. "We are constantly looking for good second-hand vehicles," he says. "We've recently bought a lot of second-hand tractors, between 80 and 100, all of which are around threeand four-years-old and are primarily DAFs. It's a reputable seller, so we don't have a problem with it. The price of new kit has been rocketing, but we've got a good national garage set-up so we are fairly conident we can pick up a lot of second-hand vehicles and run them without any troubles. We do still buy new, though, and last year we bought 60 new ones.
"The price of lorries goes in a cycle; the Scanias and DAFs were out of our price range this time, which is why we went for new Renaults. They're good on fuel and we've had an afinity with Renault since we bought our irst one in 1998. Renaults are arguably the best vehicles on fuel and purchase price, and they are just as reliable as Scanias, but last year we also took on two new MANs to evaluate. People like to say you're a Scania or a DAF leet, but we're not tied in to any one make – I've just had an Iveco as a demonstrator for comparison." Just like the business side of the operation, Keedwell ensures the leet is as eficient as possible, calling on years of his own personal experience.
"We think about fuel, the manufacturers, driver training and telematics all the time, and are always trialing new systems. We've been running at 85kmph (53mph) for over ive years, and when a truck isn't, you feel the cost. We had some 2005 Renaults running at 90kmph (56mph) for about two weeks without realising. During that time, we were losing 0.5mpg. As soon as we get a new truck, the irst thing we do is set it to 85kmph, and sort out the aero. I don't care if you get up the hill quick – it's about fuel, not power." Now as the company rebrands to unify the group's 12 companies across 10 depots and raise its proile, further eficiency is still being chased. The livery, which Keedwell hopes will propel the leet into the public eye, has been designed to minimise fuss, and wherever possible only has one panel painted. Keedwell calls the company's policy on tyres a "dirty job" , but challenges anyone to do it cheaper, while his policy on parking is saving the company hundreds of pounds per day in fees and curtain damage.
Parking policy
"One of my pet hates is getting curtains slashed, so we ring every driver every day to ind out where they are parking. We don't park in laybys or service areas," he says. "Our concerns are driver safety, load security and overall vehicle security, and we challenge our trafic teams to do this in the most eficient way possible at minimal cost." While Keedwell admits there is "no drive to be the biggest haulier in the world" , maintaining the company's roots as a family business – with straightforward communication and decision-making – is a priority. "I want our customers to be able to speak to us directly if there's a problem. If you're a busy haulier, things will go wrong, but if you tell them the truth the problem will get sorted."
As for the future, White is conident the business will continue to grow naturally, and sees potential in RT Keedwell's construction business, moving steel, bricks and blocks. For now though, the priority is to bring all trucks, drivers and depots into the group ethos, while redeveloping the Highbridge headquarters with new warehousing, workshops, ofices and an ATF testing lane. But for White and Keedwell it won't stop there – not when there's London and Birmingham still to take on. ■