Fair comment
9th June 2011
Page 25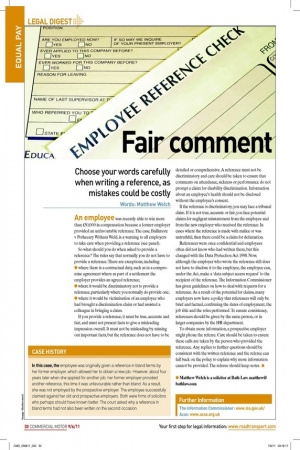 Page 25, 9th June 2011 —
Fair comment
Close
Keywords :
Labour Law
,
United Kingdom Labour Law
,
Human Resource Management
,
Labor
,
Employment Compensation
,
Industrial Relations
,
Compromise Agreement
,
Management
,
Unfair Dismissal In The United Kingdom
,
Law / Crime
,
Labor
Choose your words carefully when writing a reference, as mistakes could be costly
Words: Matthew Welch An employee was recently able to win more than £50,000 in compensation because a former employer provided an unfavourable reference. The case, Bullimore v Pothecary Witham Weld, is a warning to all employers to take care when providing a reference (see panel).
So what should you do when asked to provide a reference? The rules say that normally you do not have to provide a reference. There are exceptions, including: ● where there is a contractual duty, such as in a compromise agreement where as part of a settlement the employer provides an agreed reference; ● where it would be discriminatory not to provide a reference, particularly where you normally do provide one; ● where it would be victimisation of an employee who had brought a discrimination claim or had assisted a colleague in bringing a claim.
If you provide a reference, it must be true, accurate and fair, and must not present facts to give a misleading impression overall. It must not be misleading by missing out important facts, but the reference does not have to be detailed or comprehensive. A reference must not be discriminatory and care should be taken to ensure that comments on attendance, sickness or performance do not prompt a claim for disability discrimination. Information about an employee's health should not be disclosed without the employee's consent.
If the reference is discriminatory, you may face a tribunal claim. If it is not true, accurate or fair, you face potential claims for negligent misstatement from the employee and from the new employer who received the reference. In cases where the reference is made with malice or was untruthful, then there could be a claim for defamation.
References were once conidential and employees often did not know who had written them, but this changed with the Data Protection Act 1998. Now, although the employer who wrote the reference still does not have to disclose it to the employee, the employee can, under the Act, make a 'data subject access request' to the recipient of the reference. The Information Commissioner has given guidelines on how to deal with requests for a reference. As a result of the potential for claims, many employers now have a policy that references will only be brief and factual, conirming the dates of employment, the job title and the roles performed. To ensure consistency, references should be given by the same person, or in larger companies by the HR department.
To obtain more information, a prospective employer might phone the referee. Care should be taken to ensure these calls are taken by the person who provided the reference. Any replies to further questions should be consistent with the written reference and the referee can fall back on the policy to explain why more information cannot be provided. The referee should keep notes. ■