Haulier fined £12k for driver's severed arm
9th June 2011
Page 18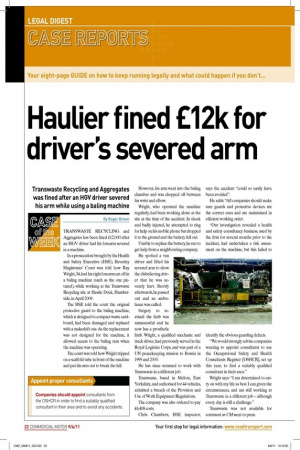 Page 18, 9th June 2011 —
Haulier fined £12k for driver's severed arm
Close
Transwaste Recycling and Aggregates was fined after an HGV driver severed his arm while using a baling machine
By Roger Brown
TRANSWASTE RECYCLING and Aggregates has been ined £12,000 after an HGV driver had his forearm severed in a machine.
In a prosecution brought by the Health and Safety Executive (HSE), Beverley Magistrates' Court was told how Ray Wright, 34, had his right forearm cut off in a baling machine (such as the one pictured), while working at the Transwaste Recycling site at Hessle Dock, Humberside, in April 2009.
The HSE told the court the original protective guard to the baling machine, which is designed to compact waste cardboard, had been damaged and replaced with a makeshift one. As the replacement was not designed for the machine, it allowed access to the baling ram when the machine was operating.
The court was told how Wright tripped on a scaffold tube in front of the machine and put his arm out to break the fall. However, his arm went into the baling chamber and was chopped off between his wrist and elbow.
Wright, who operated the machine regularly, had been working alone at the site at the time of the accident. In shock and badly injured, he attempted to ring for help on his mobile phone but dropped it to the ground and the battery fell out.
Unable to replace the battery, he ran to get help from a neighbouring company.
He spotted a van driver and lifted his severed arm to show the disbelieving driver that he was severely hurt. Shortly afterwards, he passed out and an ambulance was called.
Surgery to reattach the limb was unsuccessful and he now has a prosthetic limb. Wright, a qualiied mechanic and truck driver, had previously served in the Royal Logistics Corps, and was part of a UN peacekeeping mission to Bosnia in 1999 and 2000.
He has since returned to work with Transwaste in a different job.
Transwaste, based in Melton, East Yorkshire, and authorised for 44 vehicles, admitted a breach of the Provision and Use of Work Equipment Regulations.
The company was also ordered to pay £6,408 costs.
Chris Chambers, HSE inspector, says the accident "could so easily have been avoided" .
He adds: "All companies should make sure guards and protective devices are the correct ones and are maintained in eficient working order.
"Our investigation revealed a health and safety consultancy business, used by the irm for several months prior to the incident, had undertaken a risk assessment on the machine, but this failed to identify the obvious guarding defects.
"We would strongly advise companies wanting to appoint consultants to use the Occupational Safety and Health Consultants Register [OSHCR], set up this year, to ind a suitably qualiied consultant in their area." Wright says: "I am determined to carry on with my life as best I can given the circumstances, and am still working at Transwaste in a different job – although every day is still a challenge." Transwaste was not available for comment as CM went to press.