Back down, Stobart – it's a dangerous distraction
9th June 2011
Page 17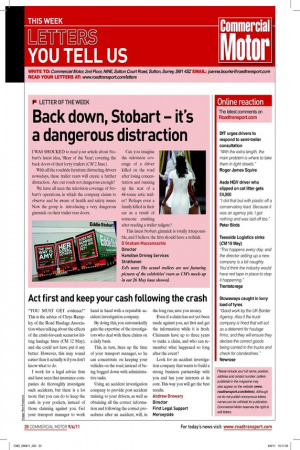 Page 17, 9th June 2011 —
Back down, Stobart – it's a dangerous distraction
Close
I WAS SHOCKED to read your article about Stobart's latest idea, 'Rear of the Year', covering the back doors of their lorry trailers (CM 2 June).
With all the roadside furniture distracting drivers nowadays, these trailer rears will create a further distraction. Are our roads not dangerous enough?
We have all seen the television coverage of Stobart's operations, in which the company claims to observe and be aware of health and safety issues. Now the group is introducing a very dangerous gimmick on their trailer rear doors. Can you imagine the television coverage of a driver killed on the road after losing concentration and running up the rear of a 44-tonne artic trailer? Perhaps even a family killed in their car as a result of someone crashing after reading a trailer tailgate?
This latest Stobart gimmick is totally irresponsible, and I believe the irm should have a rethink.
D Graham Macconnachie Director Hamilton Driving Services Strathaven Ed's note: The actual trailers are not featuring pictures of the celebrities' rears as CM's mock-up in our 26 May issue showed.