Learning the
9th June 2011
Page 12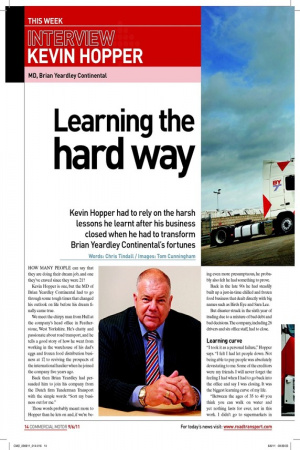 Page 13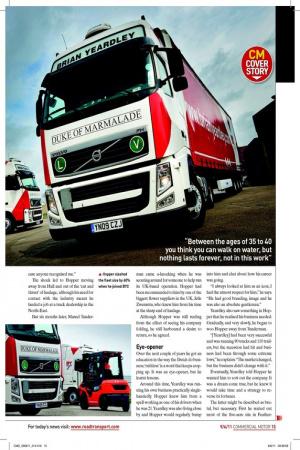 Page 14
Page 12, 9th June 2011 —
Learning the
Close
Keywords :
hard way
Kevin Hopper had to rely on the harsh lessons he learnt after his business closed when he had to transform Brian Yeardley Continental's fortunes
Words: Chris Tindall / Images: Tom Cunningham
HOW MANY PEOPLE can say that they are doing their dream job, and one they've craved since they were 21?
Kevin Hopper is one, but the MD of Brian Yeardley Continental had to go through some tough times that changed his outlook on life before his dream inally came true.
We meet the chirpy man from Hull at the company's head ofice in Featherstone, West Yorkshire. He's chatty and passionate about road transport, and he tells a good story of how he went from working in the warehouse of his dad's eggs and frozen food distribution business at 17, to reviving the prospects of the international haulier when he joined the company ive years ago.
Back then Brian Yeardley had persuaded him to join his company from the Dutch irm Tunderman Transport with the simple words: "Sort my business out for me." Those words probably meant more to Hopper than he lets on and, if we're be ing even more presumptuous, he probably also felt he had something to prove.
Back in the late 90s he had steadily built up a just-in-time chilled and frozen food business that dealt directly with big names such as Birds Eye and Sara Lee.
But disaster struck in the sixth year of trading due to a mixture of bad debt and bad decisions. The company, including 26 drivers and six ofice staff, had to close.
Learning curve
"I took it as a personal failure," Hopper says. "I felt I had let people down. Not being able to pay people was absolutely devastating to me. Some of the creditors were my friends. I will never forget the feeling I had when I had to go back into the ofice and say I was closing. It was the biggest learning curve of my life.
"Between the ages of 35 to 40 you think you can walk on water and yet nothing lasts for ever, not in this work. I didn't go to supermarkets in case anyone recognised me." The shock led to Hopper moving away from Hull and out of the 'cut and thrust' of haulage, although his need for contact with the industry meant he landed a job at a truck dealership in the North-East.
But six months later, Marcel Tunder man came a-knocking when he was scouting around for someone to help run its UK-based operation. Hopper had been recommended to him by one of the biggest lower suppliers in the UK, Jelle Zwemstra, who knew him from his time at the sharp end of haulage.
Although Hopper was still reeling from the effect of seeing his company folding, he still harboured a desire to return, so he agreed.
Eye-opener
Over the next couple of years he got an education in the way the Dutch do business; 'ruthless' is a word that keeps cropping up. It was an eye-opener, but he learnt lessons.
Around this time, Yeardley was running his own business practically singlehandedly. Hopper knew him from a spell working as one of his drivers when he was 21. Yeardley was also living close by and Hopper would regularly bump into him and chat about how his career was going.
"I always looked at him as an icon, I had the utmost respect for him," he says. "He had good branding, image and he was also an absolute gentleman." Yeardley also saw something in Hopper that he realised his business needed. Gradually, and very slowly, he began to woo Hopper away from Tunderman.
"[Yeardley] had been very successful and was running 90 trucks and 110 trailers, but the recession had hit and business had been through some extreme lows," he explains. "The market changed, but the business didn't change with it." Eventually, Yeardley told Hopper he wanted him to sort out the company. It was a dream come true, but he knew it would take time and a strategy to reverse its fortunes.
The latter might be described as brutal, but necessary. First he rented out most of the ive-acre site in Feather stone as there was more than enough land for Yeardley's needs. Then he got rid of the company's garage and maintenance arm. He cut warehouse staffng levels by half and the leet size by 60%, instead relying more heavily on a carefully selected list of approved hauliers. The board of directors was completely overhauled with none now working for the business. Hopper also drew up a wish list of people he wanted to work for him and then he went out and convinced every one of them to join him.
Turning the corner
"I thought I could do it in 12 months, but I remember thinking every year 'I am not there yet'. It was only in February just gone that I knew we had turned a real corner and that the business was going in the right direction." He says that the business has made more money so far this year than it did in the whole of 2010, which is remarkable given current economic conditions, and he says it was his experience of the Dutch that has helped forge success. "We have got to be brave with people. Every year we go to customers with a rate increase. If they want a quality service, then they have to pay for it. A fuel surcharge is a must; we told customers that there's two ways of doing it, either accept that or an increased rate, but either way one has to apply," he explains.
The now retired haulier must be pleased with his choice of MD, who once learnt a harsh lesson in business but has gone on to use it to his advantage.
"Brian made me laugh last month," Hopper says. "He said 'Do you know what I don't like about you? You read everything I put down in front of you!'" ■