BRUSH DIRECTORS TALK WITH EMPLOYEES
9th June 1944
Page 28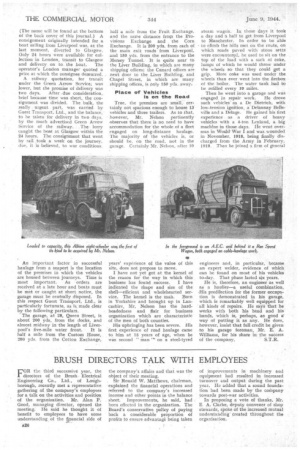 Page 28, 9th June 1944 —
BRUSH DIRECTORS TALK WITH EMPLOYEES
Close
Keywords :
Management
,
Business
,
Human Resource Management
,
Corporations Law
,
Private Law
,
Employment
,
Board Of Directors
,
Corporate Governance
,
Turnover
,
Labor
,
Business / Finance
FOR the third successive year, the directors of the Brush Electrical Engineering Co., Ltd., of Leighborough, recently met a representative gathering of the company's employees for a talk on the activities and position of the organization. Mr. Alan P. Good, managing director, opened the meeting. He said he thought it of benefit to employees to have some understanding of the financial side of
the company's affairs and that was the object of their meeting.
Sir Ronald W. Matthews, chairman, explained the financial operations and referred to the company's increased income and other points in the balance sheet. Improvements, be said, had . been effected in the organization. The Board's conservative policy of paying back a considerable proportion of profits to ensure advantage being taken of improvements in machinery and equipment had resulted in increased turnover and output during the past year. He added that a sound foundation had been. made by the cornpany towards post-war activities.
In proposing a vote of thanks, Mr. E A. Clarke, deputy convener of shop stewards, spoke of the increased mutual understanding created throughout the organization.