R.I.A. Calls for National Roads Plan F ROM the viewpoint of
9th June 1944
Page 18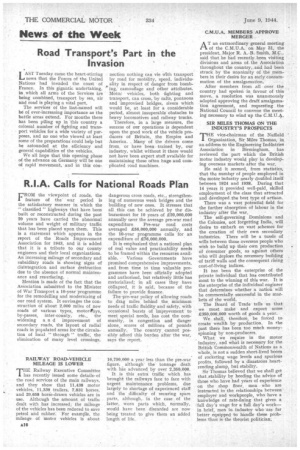 Page 18, 9th June 1944 —
R.I.A. Calls for National Roads Plan F ROM the viewpoint of
Close
roads, the feature of the' war period is the satisfactory manner in which the -" classified " highways that have been built or reconstructed during the past 20 years have carried the abnormal volume and weight of military traffic that has been placed upon them. This is a statement which appears in the report of the Roads Improvement Association for 1943, and it is added that it is a tribute to our county engineers and their local organizations. An increasing mileage of secondary and subsidiary roads is showing signs of disintegration and surface destruction due to the absence of normal maintenance and resurfacing. .
Mention is made of the fact that the Association submitted to the Minister of War Transport a 10-year-programme for the remodelling and modernizing of our road system. It envisages the construction of about 2,000 miles of new roads of various types, motonCys, by-passes, inter-county, etc., the widening a n d improvement of secondary roads, the layout of radial roads in populated areas for the circulation of local " through " traffic, the elimination of many level crossings. dangerous cross roads, etc., strengthening of numerous weak bridges and the building of new ones. It stresses that all this can be achieved by the disbursement for 10 years of 220,000,000 annually aver the average pre-war road expenditure Pre-war road costs averaged £56,000,000 annually, and the 10-year programme calls for an expenditure of £76,000,000.
It is emphasized that a national plan of real value and practicability needs to be framed within the resources available. • Various Governments have promised comprehensive improvements, and from time to time valuable programmes have been officially adopted and authorized, but relatively little has materialized: in all cases they have ciallapsed, it is said, because of the failure to provide finance.
The-pre-war policy of allowing roads to drag miles behind the minimum needs of traffic fluidity and safety, with occasional bursts of improvement to meet special needs, has cost the community, in congestion and danger alone, scores of millions of pounds annually. The country , cannot possibly afford this burden after the war, says the report.