News of the Week
9th June 1944
Page 18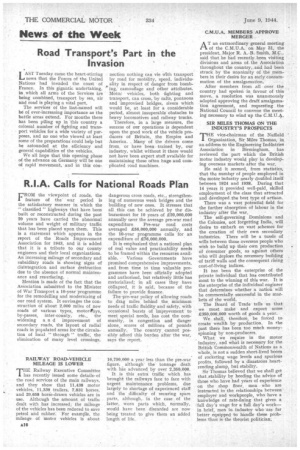 Page 18, 9th June 1944 —
News of the Week
Close
Road Transport's Part in the Invasion
AST Tuesday came the heart-stirring
news that the Forces of the United Nations had invaded the coast of France. In this gigantic undertaking, In which all arms of the Services are being combined, transport by sea, air and road is playing a vital part.
The services of the last-named will be of ever-increasing importance as the battle areas extend. For months there has been piling up in this country a colossal number of fighting and transport vehicles for a wide variety of purposes, and no one who viewed at least some of the preparations could help but be astounded at the efficiency and general capabilities of the vehicles.
We all hope that this opening phase of the advance on Germany will be one of rapid movement, and in this con
nection nothing Can vie with transport by road for mobility, speed, individuality in respect of danger from bombing. camouflage and other attributes.
• Motor vehicles, both fighting and transport, can cross, by rafts, pontoons and improvised bridges, rivers which would be, at least for a considerable period, almost insuperable obstacles to heavy locomotives and railway trucks. Therefore, in a large measure, the success of our operations is dependent upon the good work of the vehicle producers of Britain" the Empire and America, , Many of the drivers come from, or have been • trained by, our industry, whilst without it there would not have been expert staff available for maintaining these often huge and complicated road machines.