One Hears-
9th June 1944
Page 17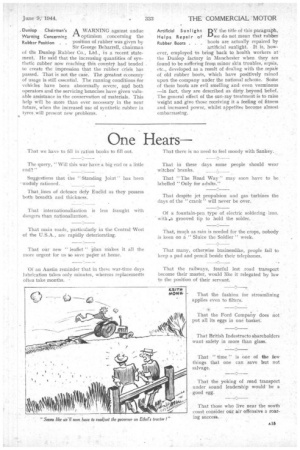 Page 17, 9th June 1944 —
One Hears-
Close
That we have to fill in ration books to fill out.
The query, ' Will this war have a big end or a little end?"
Suggestions that the "-Standing Joint' has been unduly rationed. .
That lines of defence defy Euclid as they possess both breadth and thickness.
That • internationalization is less fraught with dangers than nationalization.
That main roads, particularly in the Central .West of the U.S.A., are rapidly deteriorating.
That our new "leaflet " Plan Makes it all the more urgent for us to save paper at home.
Of an Austin reminder that in these war-time days lubrication takes only minutes, whereas replacements often take months. • That there is no need to feel moody with Sankey.
That in these days some people should wear witches' branks. _ That " The Road Way" may soon have to he • labelled "Only for adults."
That despite jet propulsion and gas turbines -the days of the " crank " will never be over.
Of a fountain-pen type of electric soldering iron. with.a grooved tip to hold the solder.
That, Much as rain is needed for the crops, nobody is keen on " Sluice the Soldier " week.
That many, otherwise businesslike, people fail to keep a pad and pencil beside their telephones.
That the railways, fearful lest road transport become their master, would like it relegated by law to the position of their servant.
That the fashion for streamlining applies even to filters.
That the Ford Co/ppm-1y does not put all its eggs in one basket.
That British indestructo shareholders want safety in more than glass.
That " time" is one of the few things that one can save but not salvage.
That the yoking of road transport under sound leadership would be a good egg.
That thoSe who live near the south coast consider our air offensive a roaring success.