SPT creditors won't be paid
9th January 2014
Page 7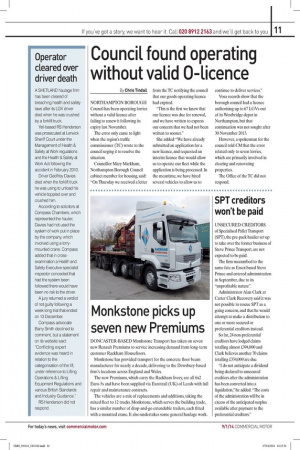 Page 7, 9th January 2014 —
SPT creditors won't be paid
Close
UNSECURED CREDITORS of Specialised Pallet Transport (SPT), the pre-pack haulier set up to take over the former business of Steve Prince Transport, are not expected to be paid.
The firm succumbed to the same fate as Essex-based Steve Prince and entered administration in September, due to its "unprofitable nature".
Administrator Alan Clark at Carter Clark Recovery said it was not possible to rescue SPT as a going concern, and that he would attempt to make a distribution to one or more secured or preferential creditors instead.
So far, 24 non-preferential creditors have lodged claims totalling almost £394,000 and Clark believes another 70 claims totalling £334,000 are due.
"I do not anticipate a dividend being declared to unsecured creditors after the administration has been converted into a liquidation," he added. "The costs of the administration will be in excess of the anticipated surplus available after payment to the preferential creditors."