Council found operating without valid 0-licence
9th January 2014
Page 7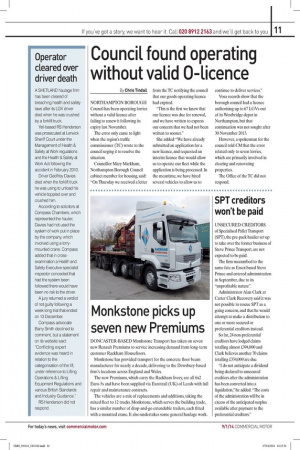 Page 7, 9th January 2014 —
Council found operating without valid 0-licence
Close
By Chris Tindall
NORTHAMPTON BOROUGH Council has been operating lorries without a valid licence after failing to renew it following its expiry last November.
The error only came to light when the region's traffic commissioner (TC) wrote to the council urging it to resolve the situation. Councillor Mary Markham, Northampton Borough Council cabinet member for housing, said: "On Thursday we received a letter
from the TC notifying the council that our goods operating licence had expired.
"This is the first we knew that our licence was due for renewal, and we have written to express our concern that we had not been written to sooner." She added: "We have already submitted an application for a new licence, and requested an interim licence that would allow us to operate our fleet while the application is being processed. In the meantime, we have hired several vehicles to allow us to
continue to deliver services."
Vosa records show that the borough council had a licence authorising up to 67 LGVs out of its Westbridge depot in Northampton, but that continuation was not sought after 30 November 2013.
However, a spokesman for the council told CM that the error related only to seven lorries, which are primarily involved in clearing and renovating properties.
The Office of the TC did not respond.