T Henderson fails to win back licence
9th January 2014
Page 4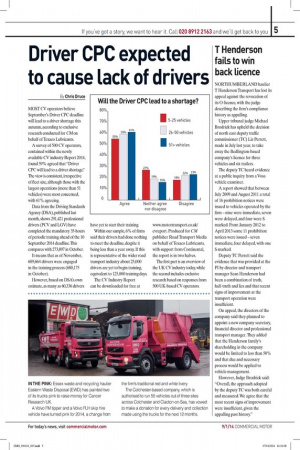 Page 4, 9th January 2014 —
T Henderson fails to win back licence
Close
NORTHUMBERLAND haulier T Henderson Transport has lost its appeal against the revocation of its 0-licence, with the judge describing the firm's compliance history as appalling.
Upper tribunal judge Michael Brodrick has upheld the decision of north east deputy traffic commissioner (TC) Liz Perrett, made in July last year, to take away the Bedlington-based company's licence for three vehicles and six trailers.
The deputy TC heard evidence at a public inquiry from a Vosa vehicle examiner.
A report showed that between July 2009 and August 2011 a total of 16 prohibition notices were issued to vehicles operated by the firm — nine were immediate, seven were delayed, and four were S marked. From January 2012 to April 2013 some 11 prohibition notices were issued — seven immediate, four delayed, with one S marked.
Deputy TC Perrett said the evidence that was provided at the PI by director and transport manager Sean Henderson had been a combination of truth, half-truth and lies and that recent signs of improvement at the transport operation were insufficient.
On appeal, the directors of the company said they planned to appoint a new company secretary, financial director and professional transport manager. They added that the Henderson family's shareholding in the company would be limited to less than 50% and that due and necessary process would be applied to vehicle management.
However, Judge Brodrick said: "Overall, the approach adopted by the deputy TC was both careful and measured. We agree that the most recent signs of improvement were insufficient, given the appalling past history."