Strengthening the brand
9th January 2014
Page 36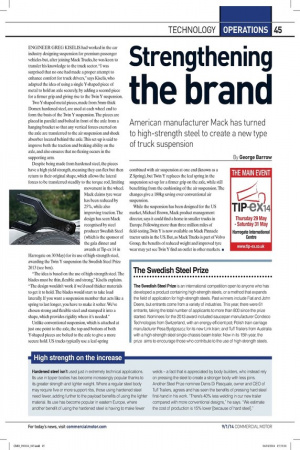 Page 36, 9th January 2014 —
Strengthening the brand
Close
American manufacturer Mack has turned to high-strength steel to create a new type of truck suspension By George Barrow
ENGINEER GREG KISELIS had worked in the car industry designing suspension for premium passenger vehicles but, after joining Mack Trucks, he was keen to transfer his knowledge to the truck sector. "I was surprised that no one had made a proper attempt to enhance comfort for truck drivers," says Kiselis, who adapted the idea of using a single Y-shaped piece of metal to hold an axle securely, by adding a second piece for a firmer grip and giving rise to the Twin Y suspension.
Two Y-shaped metal pieces, made from 5mm-thick Domex hardened steel, are used at each wheel end to form the basis of the Twin Y suspension. The pieces are placed in parallel and bolted in front of the axle from a hanging bracket so that any vertical forces exerted on the axle are transferred to the air suspension and shock absorber located behind the axle. This set-up is said to improve both the traction and braking ability on the axle, and also ensures that no flexing occurs in the supporting arm. Despite being made from hardened steel, the pieces have a high yield strength, meaning they can flex but then return to their original shape, which allows the lateral forces to be transferred steadily to the torque rod, limiting movement in the wheel. Mack claims tyre wear has been reduced by 25%, while also improving traction. The design has seen Mack recognised by steel producer Swedish Steel (which is the sponsor of the gala dinner and awards at Tip-ex 14 in
Harrogate on 30 May) for its use of high-strength steel, awarding the Twin Y suspension the Swedish Steel Prize 2013 (see box).
"The idea is based on the use of high-strength steel. The blades must be thin, flexible and strong," Kiselis explains. "The design wouldn't work if we'd used thicker materials to get it to hold. The blades would start to take load laterally. If you want a suspension member that acts like a spring to last longer, you have to make it softer. We've chosen strong and flexible steel and stamped it into a shape, which provides rigidity where it's needed." Unlike conventional suspension, which is attached at just one point to the axle, the top and bottom of both Y-shaped pieces are bolted to the axle to give a more secure hold. US trucks typically use a leaf-spring
combined with air suspension at one end (known as a Z Spring), but Twin Y replaces the leaf spring in the suspension set-up for a firmer grip on the axle, while still benefitting from the cushioning of the air suspension. The changes give a 180kg saving over conventional air suspension. While the suspension has been designed for the US market, Michael Brown, Mack product management director, says it could find a home in smaller trucks in Europe. Following more than three million miles of field-testing, Twin Y is now available on Mack Pinnacle tractor units in the US. But, as Mack Trucks is part of Volvo Group, the benefits of reduced weight and improved tyre wear may yet see Twin Y find an outlet in other markets. •
The Swedish Steel Prize
The Swedish Steel Prize is an international competition open to anyone who has developed a product containing high-strength steels, or a method that expands the field of application for high-strength steels. Past winners include Fiat and John Deere, but entrants come from a variety of industries. This year, there were 61 entrants, taking the total number of applicants to more than 800 since the prize started. Nominees for the 2013 award included saucepan manufacturer Condeco Technologies from Switzerland, with an energy-efficient pot; Polish train carriage manufacturer Pesa Bydgoszcz for its new Link train; and Tuff Trailers from Australia with a high-strength steel single-chassis beam trailer. Now in its 15th year, the prize aims to encourage those who contribute to the use of high-strength steels.
Hardened steel isn't used just in extremely technical applications. Its use in tipper bodies has become increasingly popular thanks to its greater strength and lighter weight. Where a regular steel body may require five or more support ribs, those using hardened steel need fewer, adding further to the payload benefits of using the lighter material. Its use has become popular in eastern Europe, where another benefit of using the hardened steel is having to make fewer
welds — a fact that is appreciated by body builders, who instead rely on pressing the steel to create a stronger body with less joins. Another Steel Prize nominee Denis Di Pasquale, owner and CEO of Tuff Trailers, agrees and has seen the benefits of pressing hard steel first-hand in his work. "There's 40% less welding in our new trailer compared with more conventional designs," he says. "We estimate the cost of production is 15% lower [because of hard steel]."