Deben got Elite assets for C75k
9th January 2014
Page 3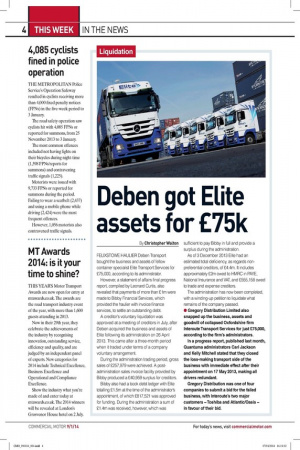 Page 3, 9th January 2014 —
Deben got Elite assets for C75k
Close
By Christopher Walton
FELIXSTOWE HAULIER Deben Transport bought the business and assets of fellow container specialist Elite Transport Services for £75,000, according to its administrator.
However, a statement of affairs final progress report, compiled by Leonard Curtis, also revealed that payments of more than El m were made to Bibby Financial Services, which provided the haulier with invoice finance services, to settle an outstanding debt.
A creditor's voluntary liquidation was approved at a meeting of creditors in July, after Deben acquired the business and assets of Elite following its administration on 26 April 2013. This came after a three-month period when it traded under terms of a company voluntary arrangement.
During the administration trading period, gross sales of £257,979 were achieved. A postadministration sales invoice facility provided by Bibby produced a £40,959 surplus for creditors. Bibby also had a book debt ledger with Elite totalling £1.5m at the time of the administrator's appointment, of which £817,521 was approved for funding. During the administration a sum of £1.4m was received, however, which was
sufficient to pay Bibby in full and provide a surplus during the administration.
As of 3 December 2013 Elite had an estimated total deficiency, as regards nonpreferential creditors, of £4.4m. It includes approximately £2m owed to HMRC in PAYE, National Insurance and VAT, and £555,158 owed to trade and expense creditors.
The administration has now been completed, with a winding-up petition to liquidate what remains of the company passed.
• Gregory Distribution Limited also snapped up the business, assets and goodwill of collapsed Oxfordshire firm Interoute Transport Services for just £75,000, according to the firm's administrators.
In a progress report, published last month, Quantuma administrators Carl Jackson and Kelly Mitchell stated that they closed the loss-making transport side of the business with immediate effect after their appointment on 17 May 2013, making all drivers redundant.
Gregory Distribution was one of four companies to submit a bid for the failed business, with Interoute's two major customers —Toshiba and Atlantic/Oasis — in favour of their bid.