Nothing to fear?
9th January 2014
Page 25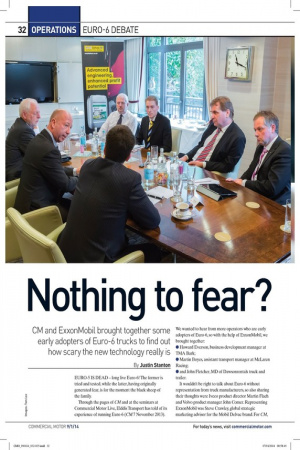 Page 26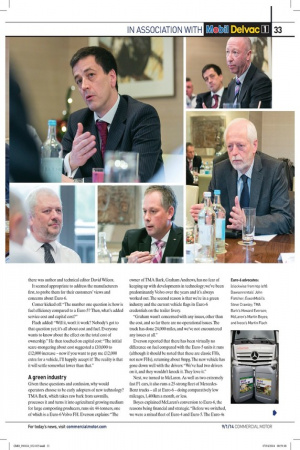 Page 27
Page 28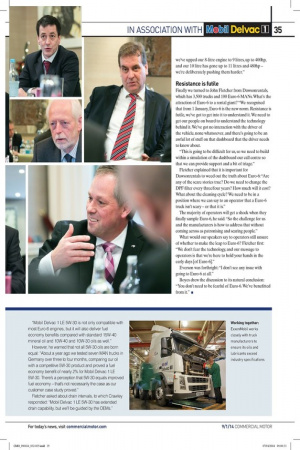 Page 25, 9th January 2014 —
Nothing to fear?
Close
CM and ExxonMobil brought together some early adopters of Euro-6 trucks to find out how scary the new technology really is By Justin Stanton
EURO-5 IS DEAD — long live Euro-6! The former is tried and tested, while the latter, having originally generated fear, is for the moment the black sheep of the family.
Through the pages of CM and at the seminars at Commercial Motor Live, Elddis Transport has told of its experience of running Euro-6 (CM7 November 2013). We wanted to hear from more operators who are early adopters of Euro-6, so with the help of ExxonMobil, we brought together: • Howard Everson, business development manager at TMA Bark; • Martin Boyes, assistant transport manager at McLaren Racing;
• and John Fletcher, MD of Dawsonrentals truck and trailer. It wouldn't be right to talk about Euro-6 without representation from truck manufacturers, so also sharing their thoughts were Iveco product director Martin Flach and Volvo product manager John Comer. Representing ExxonMobil was Steve Crawley, global strategic marketing advisor for the Mobil Delvac brand. For CM,
there was author and technical editor David Wilcox.
It seemed appropriate to address the manufacturers first, to probe them for their customers' views and concerns about Euro-6.
Comer kicked off: "The number one question is: how is fuel efficiency compared to a Euro-5? Then, what's added service cost and capital cost?"
Flach added: "Will it, won't it work? Nobody's got to that question yet; it's all about cost and fuel. Everyone wants to know about the effect on the total cost of ownership." He then touched on capital cost: "The initial scare-mongering about cost suggested a £10,000 to £12,000 increase — now if you want to pay me £12,000 extra for a vehicle, I'll happily accept it! The reality is that it will settle somewhat lower than that."
A green industry
Given these questions and confusion, why would operators choose to be early adopters of new technology? TMA Bark, which takes raw bark from sawmills, processes it and turns it into agricultural growing medium for large composting producers, runs six 44-tonners, one of which is a Euro-6 Volvo FH. Everson explains: "The
owner of TMA Bark, Graham Andrews, has no fear of keeping up with developments in technology; we've been predominantly Volvo over the years and it's always worked out. The second reason is that we're in a green industry and the current vehicle flags its Euro-6 credentials on the trailer livery.
"Graham wasn't concerned with any issues, other than the cost, and so far there are no operational issues. The truck has done 24,000 miles, and we've not encountered any issues at all."
Everson reported that there has been virtually no difference on fuel compared with the Euro-5 units it runs (although it should be noted that these are classic FHs, not new FHs), returning about 8mpg. The new vehicle has gone down well with the drivers: "We've had two drivers on it, and they wouldn't knock it. They love it."
Next, we turned to McLaren. As well as two extremely fast Fl cars, it also runs a 25-strong fleet of MercedesBenz trucks — all at Euro-6 — doing comparatively low mileages, 1,400km a month, or less. Boyes explained McLaren's conversion to Euro-6, the reasons being financial and strategic. "Before we switched, we were a mixed fleet of Euro-4 and Euro-5. The Euro-4s
were six to seven years old. We took the option to replace the Euro-5s to start with, but when we did the analysis, it was more beneficial to change the Euro-4s at the same time as well. Being in the industry that we are, we're very close to the FIA's [motor sport's governing body] environmental policies, and we wanted to be the first carbon-neutral Fl team.
"We'd had the very fortunate position up until January 2012 of all vehicles being supplied by Mercedes-Benz [FOCI. Now we're in for the entire cost of the fleet. We replaced the fleet; every vehicle that we've got is bespoke, we don't have any spares of anything, apart from a couple of curtainsiders. The vehicles were delivered in May." So how are they performing? Using Fleetboard analysis, Boyes revealed that fuel economy across the fleet improved by 6% in May to October last year (F1's European, road-based season, as opposed to the 'fly away' races that book-end the championship) compared to May to October 2012. He said four to five of those percentage points of improvement came from the vehicles; the introduction of a driver performance challenge, supported by Exxon Mobil (McLaren's oils and tubes partner), and the use of Mobil Delvac 1 commercial vehicle lubricants "have increased performance as wen
Gadgets and comfort
Of the driver reaction, he said: "The drivers are besides themselves with the step up Mercedes has made in terms of gadgets and comfort."
He had no concerns about taking on new technology during a peak period (most operators strive to avoid this, especially in fuel tanking for example): "We believe in the brand and the product. We train the drivers extensively with Mercedes; we take them to Germany every other year to Mercedes' facility in Worth to help them understand preventative driving styles as well as the product itself. Before the vehicles come into service, we brought the driver trainers in and walked our drivers through the new technology."
He said analysis of driving styles highlights the difference between drivers who engage with new technology and training and those who either can't or won't. His example: one driver recording only 40 miles of braking a year, against another carrying out the same role and braking for 181 miles...
CM's Wilcox noted McLaren's low mileage and asked if the outfit's trucks had experienced DPF regeneration yet. Boyes answered: "We had a failure on one of them; the DPF kept regenerating itself, which was traced to a sensor failure and that's been rectified. Because of our mileage, we'll probably never have a DPF regeneration." Flach chimed in: "One of the key things with a DPF is you'll get a better result with a smaller engine working harder than a bigger engine working in a lazy fashion. Years ago, you wanted a nice big engine that would go on forever; the lazy engine was very much the industry's preference. But at Euro-6, where you want exhaust gas temperature up to get the DPF and the SCR system working, you need to work a small engine. That's why
we've upped our 8-litre engine to 9 litres, up to 400hp, and our 10 litre has gone up to 11 litres and 480hp — we're deliberately pushing them harder."
Resistance is futile
Finally we turned to John Fletcher from Dawsonrentals, which has 3,500 trucks and 100 Euro-6 MANs.What's the attraction of Euro-6 to a rental giant? "We recognised that from 1 January, Euro-6 is the new norm. Resistance is futile, we've got to get into it to understand it. We need to get our people on board to understand the technology behind it. We've got no interaction with the driver of the vehicle, none whatsoever, and there's going to be an awful lot of stuff on that dashboard that the driver needs to know about.
"This is going to be difficult for us, so we need to build within a simulation of the dashboard our call centre so that we can provide support and a bit of triage."
Fletcher explained that it is important for Dawsonrentals to weed out the truth about Euro-6: "Are any of the scare stories true? Do we need to change the DPF filter every three/four years? How much will it cost? What about the cleaning cycle? We need to be in a position where we can say to an operator that a Euro-6 truck isn't scary — or that it is."
The majority of operators will get a shock when they finally sample Euro-6, he said. "So the challenge for us and the manufacturers is how to address that without coming across as patronising and scaring people."
What would our speakers say to operators still unsure of whether to make the leap to Euro-6? Fletcher first: "We don't fear the technology, and our message to operators is that we're here to hold your hands in the early days [of Euro-61."
Everson was forthright: "I don't see any issue with going to Euro-6 at all." Boyes drew the discussion to its natural conclusion: "You don't need to be fearful of Euro-6.We've benefitted from it." •
Oils and lubes at Euro-6
The concerns about Euro-6's fuel efficiency raise the value of fuel-efficient lubricants, which is where ExxonMobil comes in.
Steve Crawley noted the concerns about fuel efficiency and said: "Driver training is probably more capitalintensive in terms of delivering benefits than other means [of reducing fuel consumption], for example, switching to full synthetic lubricants. "We work closely with the OEMs when
they're developing their engines to ensure that we have products that meet and often exceed industry specifications. It's important for the DPFs to have a low sulphated ash content in the lubricant, for example.
"Mobil Delvac 1 LE 5W-30 is not only compatible with most Euro-6 engines, but it will also deliver fuel economy benefits compared with standard 15W-40 mineral oil and 10W-40 and 10W-30 oils as well."
However, he warned that not all 5W-30 oils are born equal: "About a year ago we tested seven MAN trucks in Germany over three to four months, comparing our oil with a competitive 5W-30 product and proved a fuel economy benefit of nearly 2% for Mobil Delvac 1 LE 5W-30. There's a perception that 5W-30 equals improved fuel economy — that's not necessarily the case as our customer case study proved."
Fletcher asked about drain intervals, to which Crawley responded: "Mobil Delvac 1 LE 5W-30 has extended drain capability, but we'll be guided by the OEMs."