Slow, slow, quick, quick, slow?
9th January 2014
Page 2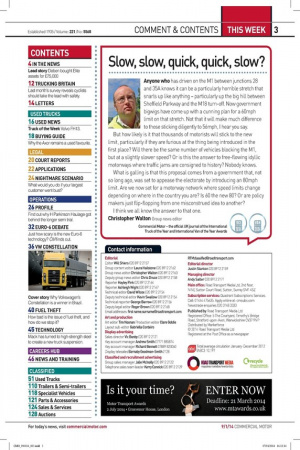 Page 2, 9th January 2014 —
Slow, slow, quick, quick, slow?
Close
Anyone who has driven on the M1 between junctions 28 and 35A knows it can be a particularly horrible stretch that snarls up like anything particularly up the big hill between Sheffield Parkway and the M18 turn-off. Now government bigwigs have come up with a cunning plan for a 0mph Limit on that stretch. Not that it will make much difference
to those sticking diligently to 56mph, I hear you say.
But how likely is it that thousands of motorists will stick to the new Limit, particularly if they are furious at the thing being introduced in the first place? Will there be the same number of vehicles blocking the Ml, but at a slightly slower speed? Or is this the answer to free-flowing idyllic motorways where traffic jams are consigned to history? Nobody knows.
What is galling is that this proposal comes from a government that, not so long ago, was set to appease the electorate by introducing an 80mph Limit. Are we now set for a motorway network where speed limits change depending on where in the country you are? Is 60 the new 80? Or are policy makers just flip-flopping from one misconstrued idea to another? I think we all know the answer to that one. Christopher Walton Group news editor