a new dawn, it's a new year
9th January 2014
Page 12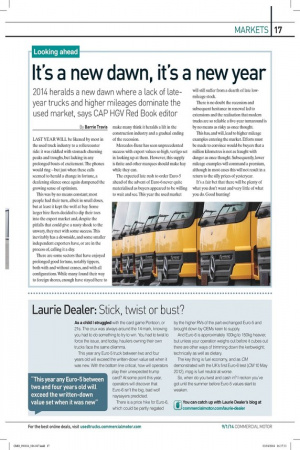 Page 12, 9th January 2014 —
a new dawn, it's a new year
Close
2014 heralds a new dawn where a lack of lateyear trucks and higher mileages dominate the used market, says CAP HGV Red Book editor By Barrie Travis
LAST YEAR WILL be likened by most in the used truck industry to a rollercoaster ride: it was riddled with stomach-churning peaks and troughs, but lacking in any prolonged bouts of excitement. The phones would ring — but just when these calls seemed to herald a change in fortune, a deafening silence once again dampened the growing sense of optimism.
This was by no means constant; most people had their turn, albeit in small doses, but at least it kept the wolf at bay. Some larger hire fleets decided to dip their toes into the export market and, despite the pitfalls that could give a nasty shock to the unwary, they met with some success. This inevitably has a downside, and some smaller independent exporters have, or are in the process of calling it a day. There are some sectors that have enjoyed prolonged good fortune, notably tippers, both with and without cranes, and with all configurations. While many found their way to foreign shores, enough have stayed here to
make many think it heralds a lift in the construction industry and a gradual ending of the recession.
Mercedes-Benz has seen unprecedented success with export values so high, vertigo set in looking up at them. However, this supply is finite and other marques should make hay while they can. The expected late rush to order Euro-5 ahead of the advent of Euro-6 never quite materialised as buyers appeared to be willing to wait and see. This year the used market
will still suffer from a dearth of late lowmileage stock.
There is no doubt the recession and subsequent hesitance in renewal led to extensions and the realisation that modern trucks are so reliable a five-year turnaround is by no means as risky as once thought.
This has, and will, lead to higher mileage examples entering the market. Efforts must be made to convince would-be buyers that a million kilometres is not as fraught with danger as once thought. Subsequently, lower mileage examples will command a premium, although in most cases this will not result in a return to the silly prices of yesteryear.
It's a fair bet that there will be plenty of what you don't want and very little of what you do. Good hunting!