BRIEFS
9th January 1997
Page 6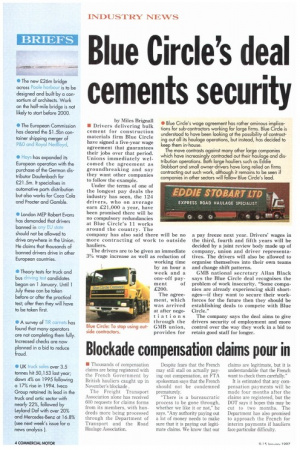 Page 6, 9th January 1997 —
BRIEFS
Close
The new £26m bridge
across Poole hor is to be designed and built by a consortium of architects. Work on the half-mile bridge is not likely to start before 2000.
The European Commission has cleared the Si 5bn container shipping merger of P&O and Royal Nedlloyd.
• Hays has expanded its European operation with the purchase of the German distributor Daufenbach for £21.5m. It specialises in automotive parts distribution but also works for Coca Cola and Procter and Gamble.
• London MEP Robert Evans has demanded that drivers banned in any EU state should not be allowed to drive anywhere in the Union. He claims that thousands of banned drivers drive in other European countries.
• Theory tests for truck and
bus ,..st candidates began on 1 January. Until 1 July these can be taken before or after the practical test; after then they will have to be taken first.
A survey of has found that many operators are not completing them fully. Increased checks are now planned in a bid to reduce fraud.
UK over 3.5 tonnes hit 50,153 last year; down 4% on 1995 following a 17% rise in 1994. Iveco Group retained its lead in the truck and artic sector with nearly 22%, followed by Leyland Daf with over 20% and Mercedes-Benz at 16.8% (see next week's issue for a news analysis I.