Blue Circle's deal cements security
9th January 1997
Page 6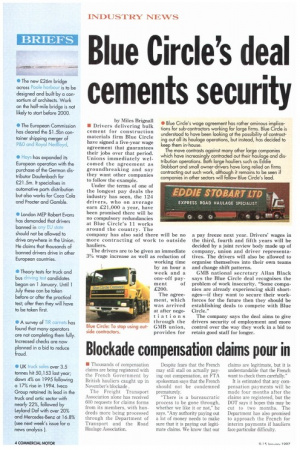 Page 6, 9th January 1997 —
Blue Circle's deal cements security
Close
by Miles Brignall • Drivers delivering bulk cement for construction materials firm Blue Circle have signed a five-year wage agreement that guarantees their jobs over that period. Unions immediately welcomed the agreement as groundbreaking and say they want other companies to follow the example.
Under the terms of one of the longest pay deals the industry has seen, the 124 drivers, who on average earn £21,000 a year, have been promised there will be no compulsory redundancies at Blue Circle's 11 works around the country. The company has also said there will be no more contracting of work to outside hauliers.
The drivers are to be given an immediate 3% wage increase as well as reduction of working time by an hour a week and a one-off pay ment of ' £200.
The agreement, which was arrived at after negotiations through the Blue Circle: To stop using outGMB union, side contractors, provides for a pay freeze next year. Drivers' wages in the third, fourth and fifth years will be decided by a joint review body made up of company, union and driver representatives. The drivers will also be allowed to organise themselves into their own teams and change shift patterns.
GMB national secretary Allan Black says the Blue Circle deal recognises the problem of work insecurity. "Some companies are already experiencing skill shortages—if they want to secure their workforces for the future then they should be establishing deals to compete with Blue Circle."
The company says the deal aims to give drivers security of employment and more control over the way they work in a bid to retain good staff for longer.
• Blue Circle's wage agreement has rather ominous implications for sub-contractors working for large firms Blue Circle is understood to have been looking at the possibility of contracting out all its haulage operations, but instead, has decided to keep them in-house.
The move contrasts against many other large companies which have increasingly contracted out their haulage and distribution operations. Both large hauliers such as Eddie Stobbart and small owner-drivers have long relied on Firms contracting out such work, although it remains to be seen iF companies in other sectors will follow Blue Circle's lead.