ROAD/RAIL HARDWARE Last month came news of a LondonGlasgow lift-on/lift-off
9th January 1997
Page 40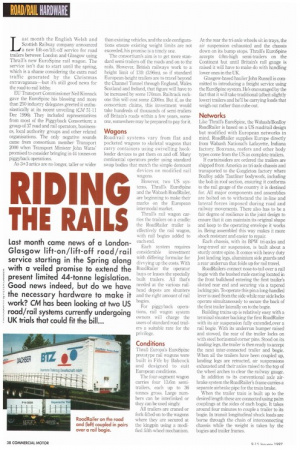 Page 41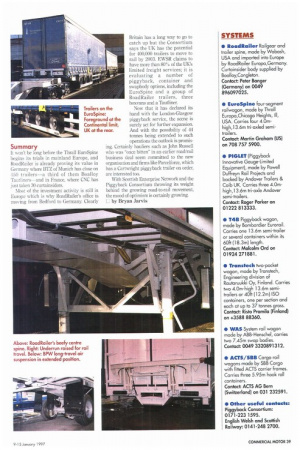 Page 40, 9th January 1997 —
ROAD/RAIL HARDWARE Last month came news of a LondonGlasgow lift-on/lift-off
Close
Keywords :
Rail Transport
,
Rail Vehicles
,
Articulated Vehicles
,
Roadrailer
,
Rolling Stock
,
Trailer
,
Semi-trailer
,
Train
,
Bogie
,
Railroad Car
,
Freight Train
,
Intermodal Freight Transport
road/rail service starting in the Spring along with a veiled promise to extend the present limited 44-tonne legislation. Good news indeed, but do we have the necessary hardware to make it work? CM has been looking at two US road/rail systems currently undergoing UK trials that could fit the bill... Last month the English Welsh and Scottish Railway company announced a new lift-on/lift-off service for road trailers between London and Glasgow using Thrall's new EuroSpine rail wagon. The service isn't due to start until the spring, which is a shame considering the extra road traffic generated by the Christmas extravaganza—but it's still good news for the road-to-rail lobby.
EU Transport Commissioner Neil Kinnock gave the EuroSpine his blessing and more than 250 industry delegates greeted it enthusiastically at its recent unveiling (CM 51-11 Dec 1996). They included representatives from most of the Piggyback Consortium; a group of 37 road and rail operators, businesses, local authority groups and other related organisations. The only negative sounds came from consortium member Transport 2000 when Transport Minister John Watts' promised to consider bringing in 44 tonnes on piggyback operations.
As 3+3 artics are no longer, taller or wider than existing vehicles, and the axle configurations ensure existing weight limits are not exceeded, his promise is a timely one.
The consortium's aim is to get more standard semi-trailers off the roads and on to the rails. However, British railways work to a height limit of 13ft (3.96m), so if standard European-height trailers are to travel beyond the Channel Tunnel through England, Wales Scotland and Ireland, that figure will have to be increased by some 170mm. Railtrack reckons this will cost some £300m. But if, as the consortium claims, this investment would take hundreds of thousands of semi-trailers off Britain's roads within a few years, someone, somewhere may be prepared to pay for it.
Wagons
Road/rail systems vary from flat and pocketed wagons to skeletal wagons that carry containers using swivelling hookloader devices to get them on and off. Many continental operators prefer using standard swap bodies that match the simple demount devices on modified rail wagons.
However, two US systems, Thrall's EuroSpine and the Wabash RoadRailer, are beginning to make their marks on the European intermodal market.
Thrall's rail wagon carries the trailers on a cradle: the RoadRailer trailer is effectively the rail wagon, with rail bogies added to each end.
Each system requires considerable investment with differing formulae for divvying up the costs. With RoadRailer the operator buys or leases the specially built trailers. All that's needed at the various railhead depots are shunters and the right amount of rail bogies.
For piggyback operations, rail wagon system owners will charge the users of standard road trailers a suitable rate for the privilege.
Conditions
Thrall Europa's EuroSpine prototype rail wagons were built in Fife by Babcock and designed to suit European conditions.
The four-segment wagon carries four 13.6m semitrailers, each up to 36 tonnes gross. Large numbers can be interlinked or they can be used singly.
All trailers are craned or fork-lifted on to the wagons where they are secured at the kingpin using a modified fifth-wheel mechanism. At the rear the tri-axle wheels sit in trays, the air suspension exhausted and the chassis down on its bump stops. Thrall's EuroSpine accepts 4.0m-high semi-trailers on the Continent but until Britain's rail gauge is raised it will have to make do with handling lower ones in the UK.
Glasgow-based haulier John Russell is committed to introducing a freight service using the EuroSpine system. He's encouraged by the fact that it will take traditional (albeit slightly lower) trailers and he'll be carrying loads that weigh out rather than cube out.
Networks
Like Thrall's EuroSpine, the Wabash/Boalloy RoadRailer is based on a US road/rail design but modified with European networks in mind. RoadRailer supplies Europe directly from Wabash National's Lafayette, Indiana factory. Box vans, reefers and other body types come from the US as complete trailers.
If curtainsiders are ordered the trailers are shipped from America as tri-axle chassis and transported to the Congleton factory where Boalloy adds Tautliner bodywork, including the bolt-in roof section, ensuring it conforms to the rail gauge of the country it is destined for. All major components and assemblies are bolted on to withstand the in-line and lateral forces imposed during road and railway movements. There also has to be a fair degree of resilience in the joint design to ensure that it can maintain its original shape and keep to the operating envelope it works in. Being assembled this way makes it more shock resistant and easier to repair.
Each chassis, with its BPW tri-axles and long-travel air suspension, is built about a sturdy centre spine. It comes with heavy duty Jost landing legs, aluminium side guards and a rear underrun that folds up for rail travel.
RoadRailers connect nose-to-tail over a rail bogie with the bushed male casting located in the front bulkhead entering the first trailer's slotted rear end and securing via a tapered locking pin. To operate this pin a long-handled lever is used from the side while rear side locks operate simultaneously to secure the back of the first trailer laterally on to the bogie.
Building trains up is relatively easy with a terminal shunter backing the first RoadRailer with its air suspension fully extended,over a rail bogie. With its underrun bumper raised and stowed, the rear of the trailer locks on with steel horizontal corner pins. Stood on its landing legs, the trailer is then ready to accept the next inter-connected trailer and bogie. When all the trailers have been coupled up, landing legs are retracted, air suspensions exhausted and their axles raised to the top of the wheel arches to clear the railway gauge.
In addition to its conventional axle airbrake system the RoadRailer's frame carries a separate airbrake pipe for the train brake.
When the trailer train is built up to the desired length these are connected using palm couplings at the sides of each bogie. It takes around four minutes to couple a trailer to its bogie. In transit longitudinal shock loads are borne through the chain of interconnecting chassis while the weight is taken by the bogies and trailer frames.
Summary
It won't be long before the Thrall EuroSpine begins its trials in mainland Europe, and RoadRailer is already proving its value in Germany where BTZ of Munich has close on 150 trailers—a third of them Boalloy Tautliners—and in France, where CNC has just taken 30 curtainsiders.
Most of the investment activity is still in Europe which is why RoadRailer's office is moving from Bedford to Germany. Clearly Britain has a long way to go to catch up but the Consortium says the UK has the potential for 900,000 trailers to move to rail by 2003. EWSR claims to have more than 80% of the UK's limited freight services; it is evaluating a number of piggyback, container and swaphody options, including the EuroSpine and a group of RoadRailer trailers, three boxYans and a Tautliner.
Now that it has declared its hand with the London-Glasgow piggyback service, the scene is surely set for further expansion. And with the possibility of 44 tonnes being extended to such operations the outlook is promising. Certainly hauliers such as John Russell who was "once bitten" in an earlier road/rail business deal seem committed to the new organisation and firms like Parcelforce, which has a Cartwright piggyback trailer on order, are interested ma With Scottish Enterprise Network and the Piggyback Consortium throwing its weight behind the growing road-to-rail movement, the mood of optimism is certainly growing.
L by Bryan Jarvis
SYSTEMS • RoadRailer Railgear and trailer spine, made by Wabash, USA and imported into Europe by RoadRailer Europa,Germany. Curtainsider body supplied by Boalloy,Congleton.
Contact: Peter Banger (Germany) on 0049 896097025.
• EuroSpine four-segment railwagon, made by Thrall Europa,Chicago Heights, Ill, USA. Carries four 4.0mhigh,13.6m tri-axled semitrailers.
Contact: Martin Graham (US) on 708 757 5900.
• PIGLET (Piggyback Innovative Gauge-Limited Equipment), made by Powell Duffreyn Rail Projects and backed by Andover Trailers & Caib UK. Carries three 4.0mhigh,13.6m tri-axle Andover semi-trailers.
Contact: Roger Parker on 01222 813333.
• T4B Piggyback wagon, made by Bombardier Eurorail. Carries one 13.6m semi-trailer or several containers within its 60ft (18.3m) length.
Contact: Malcolm Ord on 01924 271881.
• Transtech two-pocket wagon, made by Transtech, Engineering division of Rautaruukki Oy, Finland. Carries two 4.0m-high 13.6m semitrailers or 40ft (12.2m) ISO containers, one per section and each at up to 37 tonnes gross. Contact: Risto Pramila (Finland) on +3588 88360.
• WAS System rail wagon made by ABB-Henschel, carries Iwo 7.45m swap bodies. Contact: 0049 3320891312.
• ACTS/SBB Cargo rail wagons made by SBB Cargo with fitted ACTS carrier frames. Carries three 5.95m hook roll containers.
Contact: ACTS AG Bern (Switzerland) on 031 232591.
• Other useful contacts: Piggyback Consortium: 0171-223 1595.
English Welsh and Scottish Railway: 0141-248 2700.