MEE ROADTEST: MITSUBISHI L200 4x4 HE FTY
9th January 1997
Page 26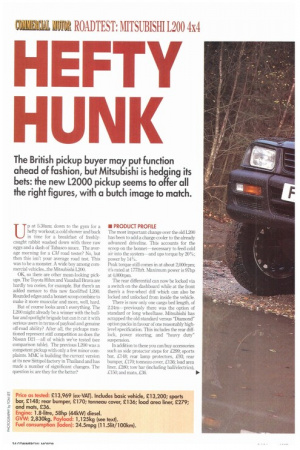 Page 28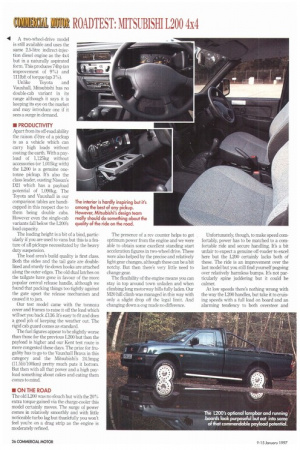 Page 30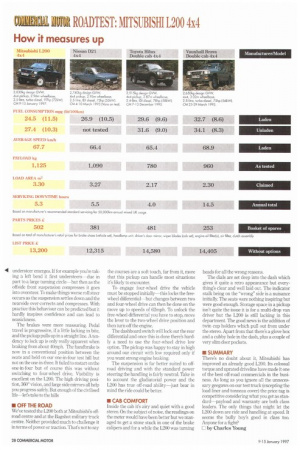 Page 29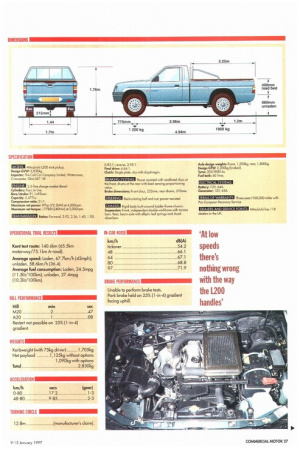 Page 26, 9th January 1997 —
MEE ROADTEST: MITSUBISHI L200 4x4 HE FTY
Close
HUNK
The British pickup buyer may put function ahead of fashion, but Mitsubishi is hedging its bets: the new 12000 pickup seems to offer all the right figures, with a butch image to match.
Up at 5.30am; down to the gym for a hefty workout; a cold shower and back in time for a breakfast of freshlycaught rabbit washed down with three raw eggs and a dash of Tabasco sauce. The average morning for a CM road tester? No, but then this isn't your average road test. This was to be a monster. A wide boy among commercial vehicles.. .the Mitsubishi L200.
OK, so there are other mean-looking pickups. The Toyota Hilux and Vauxhall Brava are hardly tea cosies, for example. But there's an added menace to this new facelifted L200. Rounded edges and a bonnet scoop combine to make it more muscular and more, well, hard.
But of course looks aren't everything. The L200 might already be a winner with the bullbar and spotlight brigade but can it cut it with serious users in terms of payload and genuine off-road ability? After all, the pickups mentioned represent stiff competition as does the Nissan D21—all of which we've tested (see comparison table). The previous L200 was a competent pickup with only a few minor complaints. IVEVIC is building the current version at its new Sittipol factory in Thailand and has made a number of significant changes. The question is: are they for the better? • PRODUCT PROFILE The most important change over the old L200 has been to add a charge-cooler to the already advanced driveline. This accounts for the scoop on the bonnet—necessary to feed cold air into the system—and ups torque by 20%; power by 14%.
Peak torque still comes in at about 2,000rpm; it's rated at 1771bft. Maximum power is 97hp at 4,000rpm.
The rear differential can now be locked via a switch on the dashboard while at the front there's a free-wheel cliff which can also be locked and unlocked from inside the vehicle.
There is now only one cargo bed length, of 2.24m—previously there was the option of standard or long wheelbase. Mitsubishi has scrapped the old standard versus "Diamond" option packs in favour of one reasonably highlevel specification. This includes the rear difflock, power steering, and "heavy duty" suspension.
In addition to these you can buy accessories such as side protector steps for £299; sports bar, £148; rear lamp protectors, £93; rear bumper, £170; tonneau cover, £136; load area liner, £280; tow bar (including ballielectrics), £150; and mats, £36. • A two-wheel-drive model is still available and uses the same 2.5-litre indirect-injection diesel engine as the 4x4 but in a naturally aspirated form. This produces 74hp (an improvement of 9%) and 1111bft of torque (up 3%).
Unlike Toyota and Vauxhall, Mitsubishi has no double-cab variant in its range although it says it is keeping its eye on the market and may introduce one if it sees a surge in demand.
• PRODUCTIVITY Apart from its off-road ability the raison d'être of a pickup is as a vehicle which can carry high loads without costing the earth. With a payload of 1,125kg without accessories (or 1,015kg with) the L200 is a genuine onetonne pickup. It's also the class leader, ousting Nissan's D21 which has a payload potential of 1,090kg. The Toyota and Vauxhall in our comparison tables are handicapped in this respect due to them being double cabs. However even the single-cab variants fall below the L200's load capacity.
The loading height is a bit of a bind, particularly if you are used to vans but this is a feature of all pickups necessitated by the heavy duty suspension.
The load area's build quality is first class. Both the sides and the tail gate are doublelined and sturdy tie-down hooks are attached along the outer edges. The old dual latches on the tailgate have gone in favour of the more popular central release handle, although we found that packing things too tightly against the gate upset the release mechanism and caused it to jam.
Our test model came with the tonneau cover and frames to raise it off the load which will set you back £136. It's easy to fit and does a good job of keeping the weather out. The rigid cab guard comes as standard.
The fuel figures appear to be slightly worse than those for the previous L200 but then the payload is higher and our Kent test route is more congested these days. The prize for frugality has to go to the Vauxhall Brava in this category and the Mitsubishi's 24.5mpg (11.514/1001un) pretty much puts it bottom. But then with all that power and a high payload something about cakes and eating them comes to mind.
• ON THE ROAD The old L200 was no slouch but with the 20% extra torque gained via the charge-cooler this model certainly moves. The surge of power comes in relatively smoothly and with little noticeable turbo lag but thankfully you won't feel you're on a drag strip as the engine is moderately refined. The presence of a rev counter helps to get optimum power from the engine and we were able to obtain some excellent standing start acceleration figures in two-wheel drive. These were also helped by the precise and relatively light gear changes, although these can be a bit notchy. But then there's very little need to change gear.
The flexibility of the engine means you can stay in top around town unladen and when climbing long motorway hills fully laden. Our M20 hill climb was managed in this way with only a slight drop off the legal limit. And changing down a cog made no difference. Unfortunately, though, to make speed comfortably, power has to be matched to a comfortable ride and secure handling. It's a bit unfair to expect a genuine off-reader to excel here but the L200 certainly lacks both of these. The ride is an improvement over the last model but you still find yourself pogoing over relatively harmless bumps. It's not particularly spine juddering but it could be calmer.
At low speeds there's nothing wrong with the way the L200 handles, but take it to cruising speeds with a full load on board and an alarming tendency to both oversteer and • understeer emerges. If for example you're taking a left bend it first understeers-due in part to a large turning circle-but then as the offside front suspension compresses it goes into oversteer. To make things worse roll steer occurs as the suspension settles down and the nearside over-corrects and compresses. With practice this behaviour can be predicted but it hardly inspires confidence and can lead to seasickness.
The brakes were more reassuring. Pedal travel is progressive, if a little lacking in bite. and the pickup pulls up in a straight line. A tendency to lock up is only really apparent when braking from about 40mph. The handbrake is now in a conventional position between the seats and held on our one-in-four test hill but not on the one-in-three. It failed to restart on the one-in-four but of course this was without switching to four-wheel drive. Visibility is excellent on the L200. The high driving position, 360 vision, and large side mirrors all help you progress safely. But enough of the civilised life-let's take to the hills • OFF THE ROAD We've tested the L200 both at Mitsubishi's off. road centre and at the Bagshot military truck centre. Neither provided much to challenge it in terms of power or traction. That's not to say the courses are a soft touch, far from it, more that this pickup can handle most situations it's likely to encounter.
To engage four-wheel drive the vehicle must be stopped initially-this locks the freewheel differential--but changes between two and four-wheel drive can then be done on the move up to speeds of 62mph. To unlock the free-wheel differential you have to stop, move the lever to the two-wheel drive position and then turn off the engine.
The dashboard switch will lock out the rear differential and once this is done there's hardly a need to use the four-wheel drive low option. The pickup was happy to stay in high around our circuit with low required only if you want strong engine braking.
The suspension is far better suited to offroad driving and with the standard power steering the handling is fairly neutral. Take in to account the gladiatorial power and the L200 has true off-road ability-just bear in mind the ride could be better.
• CAB COMFORT Inside the cab it's airy and quiet with a good stereo. On the subject of noise, the readings on the meter would have been better but we managed to get a stone stuck in one of the brake calipers and for a while the L200 was turning
heads for all the wrong reasons.
The dials are set deep into the dash which gives it quite a retro appearance but everything's clear and well laid out. The indicator stalk being on the "wrong" side is a nuisance initially. The seats were nothing inspiring but were good enough. Storage space in a pickup isn't quite the issue it is for a multi-drop van driver but the L200 is still lacking in this department. The good news is the addition of twin cup holders which pull out from under the stereo. Apart from that there's a glove box and a cubby hole in the dash, plus a couple of very slim door pockets, • SUMMARY There's no doubt about it, Mitsubishi has improved an already good L200. Its colossal torque and uprated driveline have made it one of the best off-road commercials in the business. As long as you ignore all the unnecessary geegaws on our test truck (excepting the load liner and tonneau cover) the price tag is competitive considering what you get as standard-payload and warranty are both class leaders. The only things that might let the L200 down are ride and handling at speed. It seems the bully boy's good in class too. Anyone for a fight?
O by Charles Young
Price as tested: £13,969 (ex-VAT). Includes basic vehicle, £13,200; sports bar, £148; rear bumper, £170; tonneau cover, £136; load area liner, £279; and mats, £36.
Engine: 1.8-litre, 58hp (44kW) diesel.
GVW: 2,830kg. Payload: 1,125kg (see text). Fuel consumption (laden): 24.5mpg (11.51it/100km).
SPECIFICATION
CM Mitsubishi 1200 4.x4 pickup.
Design GM: 2,830k9.
Importer The Colt Car Company limited, Watermoor, Cirencester, Glos GU 11.R.
GEMMii 2.5-litre charge-cooled diesel.
Cylinders: Four, in line.
Bore/stroke: 91.1x95mm Capacity: 2,477a.
Compression ratio: 21:1.
Maximum net power 97hp (72.3kWI at 4,000rpm Maximum net torque: 771b1t (240Nml at 2,000rpm.
=NEM Ratios: Forward, 3.92, 2.26, 1.40, 1.00,
0.83:1; reverse, 3.95:1. Final drive: 4.64:1.
Clutch: Single plate, dry with diaphragm.
BRAKING SYSTEMS Power assisted with ventilated discs at the front, drums at the rear with load•sensing proportioning valve.
Brake dimensions: Front discs, 222mm; rear drums, 270mm.
PMEI Recirculating boll and nut; power-assisted.
REM Rigid body built around ladder frame chassis_ Suspension: Front, independent double wishbone with torsion oars. Rear, beam axle with elliptic leaf springs and shock absorbers.
Axle design weights: Front, I ,200kg; rear, 1,800kg. Design GPN: 2,200kg (braked)
Tyres: 205/80R16s Fuel tank: 60 lures.
ELECTRICAL SYSTEMS:
Battery: I 2V, 64A Generator: 12V, 65A
TERMS OF WARRANTY: Three-year/100,000 miles with Par European Recovery Service
DEALERS AND SERVICE POINTS: mitsubishi has 118 dealers ir ..hu LK
OPERATIONAL TRIAL RESULTS Kent test route: 140.6km (65.5km motorway/75.1km A-road).
Average speed: Laden, 67.7km/h (42mph); unladen, 58.6km/h (36,4).
Average fuel consumption: Laden, 24.5mpg (11.514/100km); unladen, 27.4mpg (10.31it/100km).
HILL PERFORMANCE Hill min sec M20 2 47 A20 1 08 Restart not possible on 25% (1-in-4) gradient.
WEIGHTS Kerbweight (with 75kg driver) 1,705k9 Net payload 1,125kg without options 1,090kg with options Total 2,830kg ACCELERATION km/h secs (gear)
0-80 17.2 1-3 48-80 9.85 2-3
TURNING CIRCLE 12.8m (manufacturer's claim).