haulage factrile
9th January 1997
Page 22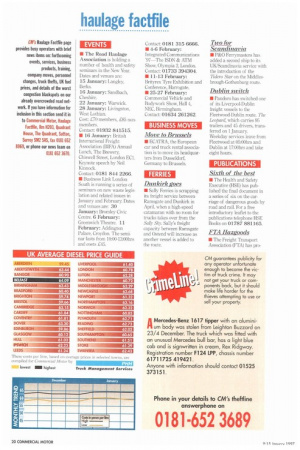 Page 23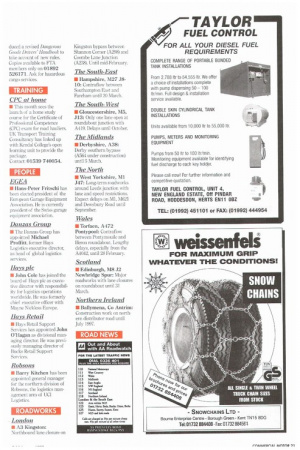 Page 22, 9th January 1997 —
haulage factrile
Close
CM's Haulage Factfile page provides busy operators with brief news items on: forthcoming events, services, business products, training, company moves, personnel changes, truck thefts. UK fuel prices, and details of the worst congestion blackspots on our already overcrowded road network. If you have information for inclusion in this section send it in to Commercial Motor, Haulage Factfile, Rm H203, Quadrant House, The Quadrant, Sutton, Surrey SM2 5AS, fax 0181 652 8969, or phone our news team on 0181 652 3610.
EVENTS
• The Road Haulage Association is holding a number of health and safety seminars in the New Year. Dates and venues are: 15 January: Langley, Berks.
16 January: Sandbach, Cheshire.
22 January: Warwick. 28 January: Livingston, West Lothian.
Cost: £70 members, £85 nonmembers.
Contact: 01932 841515.
• 16 January: British International Freight Association (BIFA) Annual Lunch, The Brewery, Chiswell Street, London Ed. Keynote speech by Neil Kinneck.
Contact: 0181 844 2266.
• Business Link London South is running a series of seminars on new waste legislation and related issues in January and February Dates and venues are: 30 January:13romley Civic Centre. 6 February: Greenwich Theatre. 11 February: Addington Palace, Croydon. The seminar lasts from 10:00-13:00hrs and costs £45. Contact: 0181 315 6666.
• 4-6 February: Integrated Communications '97-The ISDN & ATM Show, Olympia 2, London. Contact: 01733 394304.
• 11-13 February: Brityrex Tyre Exhibition and Conference, Harrogate.
• 25-27 February: Commercial Vehicle and Bodywork Show, Hall 4, NEC, Birmingham.
Contact: 01634 261262.
BUSINESS MOVES Move to Brussels
• ECATRA, the European car and truck rental association is to move its headquarters from Dusseldorf, Germany to Brussels.
FERRIES Dunkirk goes
• Sally Ferries is scrapping its freight service between Ramsgate and Dunkirk in April. when a high-speed catamaran with no room for trucks takes over from the Sally Shy. Sally's freight capacity between Ramsgate and Ostend will increase as another vessel is added to the route.
Two for Scandinavia
• P&O Ferrymasters has added a second ship to its UK/Scandinavia service with the introduction of the Tidero Star on the Middlesbrough-Gothenburg route.
Dublin switch
• Pandoro has switched one of its Liverpool-Dublin freight vessels to the Fleetwood-Dublin route. The Leopard, which carries 95 trailers and 45 drivers, transferred on 1 January Weekday services leave from Fleetwood at 05:00hrs and Dublin at 17:00hrs and take eight hours.
PUBLICATIONS Sixth of the best
• The Health and Safety Executive (HSE) has published the final document in a series of six on the carriage of dangerous goods by road and rail. For a free introductory leaflet to the publications telephone HSF: Books on 01787 881165.
.FTA Hazgoods
• The Freight Transport Association (F', FA) has pro
duced a revised Dangerous Goods Drivers' Handbook to take account of new rules. Copies available to FTA members only on 01892 526171. Ask for hazardous cargo services.
TRAINING CPC at home
• This month sees the launch of a home study course for the Certificate of Professional Competence (CPC) exam for road hauliers. UK Transport Training Consultancy has linked up with Kendal College's open learning unit to provide the package.
Contact: 01539 740054.
PEOPLE EGEA • Hans-Peter Fritschi has been elected president of the European Garage Equipment Association. He is currently president of the Swiss garage equipment association.
Danzas Group
• The Danzas Group has appointed Michael Proffitt, former Hays Logistics executive director, as head of global logistics services.
Hays plc
• John Cole has joined the board of I lays plc as executive director with responsibility for logistics operations worldwide. He was formerly chief executive officer with Mayne Nickless Europe.
Hays Retail
• Ilays Retail Support Services has appointed John O'Hagan as divisional managing director. He was previously managing director of Bucks Retail Support Services
Robsons
• Barry Kitchen has been appointed general manager for the northern division of Robsons, the logistics management arm of UCI Logistics
ROADWORKS
London
• A3 Kingston: Northbound lane closure on Kingston bypass between Shannon Corner (A298) and Coombe Lane Junction (A238). Until mid-February
The South-East
• Hampshire, M27 J810: Contraflow between Southampton East and Fareham until 20 March.
The South-West
• Gloucestershire, M5, J13: Only one lane open at roundabout junction with A419. Delays until October.
The Midlands
• Derbyshire, A38: Derby southern bypass (A564 under construction) until 5 March.
The North
• West Yorkshire, M1 J47: Long-term roadworks around Leeds junction with lane and speed restrictions. Expect delays on Ml, M621 and Dewsbury Road until September.
Wales
• Torfaen, A472 Pontypool: Contraflow between Pontymouile and Heron roundabout. Lengthy delays, especially from the A4042, until 28 February.
Scotland
• Edinburgh, M8 J2 Newbridge Spur: Major roadworks with lane closures on roundabout until 31 March.
Northern Ireland
• Ballymena, Co Antrim: Construction work on northern distributor road until July 1997.