Trojan allowed to continue
9th January 1997
Page 14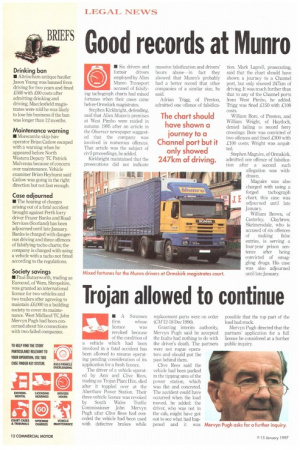 Page 14, 9th January 1997 —
Trojan allowed to continue
Close
Ltr • A Swansea
firm whose licence was revoked because of the condition of a vehicle which had been involved in a fatal accident has been allowed to resume operating pending consideration of its application for a fresh licence.
The driver of a vehicle operated by Ann and Clive Rees, trading as Trojan Plant Hire, died after it toppled over at the Aberthaw Power Station. Their three-vehicle licence was revoked by South Wales Traffic Commissioner John Mervyn Pugh after Clive Rees had conceded the vehicle had been used with defective brakes while replacement parts were on order (CM 12-18 Dec 1996).
Granting interim authority, Mervyn Pugh said he accepted the faults had nothing to do with the driver's death. The partners were not rogue operators and should put the past behind them.
Clive Rees said the vehicle had been parked in the tipping area of the power station, which was flat and concreted. The accident could have occurred when the load moved, he added: the driver, who was not in the cab, might have got out to see what had happened and it was possible that the top part of the load had stuck.
Mervyn Pugh directed that the partners' application for a full licence be considered at a further public inquiry.