BRIEFS Good records at Munro
9th January 1997
Page 14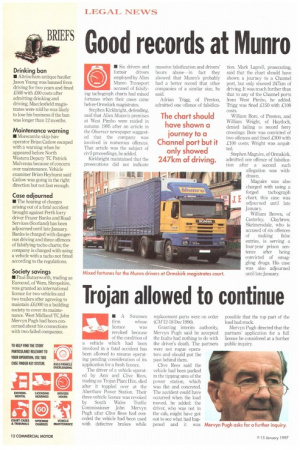 Page 14, 9th January 1997 —
BRIEFS Good records at Munro
Close
• Six drivers and former drivers employed by Allen Munro Transport accused of falsifying tachograph charts had mixed fortunes when their cases came before Ormskirk magistrates.
Stephen Kirkbright, defending, said that Allen Munro's premises at West Pimbo were raided in autumn 1995 after an article in the Observer newspaper suggested that the company was involved in numerous offences. That article was the subject of civil proceedings, he added.
Kirkbright maintained that the prosecutions did not indicate massive falsification and drivers' hours abuse—in fact they showed that Munro's probably had a better record that other companies of a similar size, he said.
Adrian Trigg, of Preston, admitted one offence of falsifica tion. Mark Laprell, prosecuting, said that the chart should have shown a journey to a Channel port, but only showed 2471m of driving. It was much further than that to any of the Channel ports from West Pimbo, he added. Trigg was fined £150 with £100 casts.
William Bore, of Preston, and William Wright, of Haydock, denied failing to record ferry crossings. Bore was convicted of two offences and fined £300 with £100 costs; Wright was acquitted.
Stephen Maguire, of Ormskirk, admitted one offence of falsification after a second such allegation was withdrawn.
Maguire was also charged with using a forged tachograph chart; this case was adjourned until late January William Brown, of Casterley, Claybrow, Skelmersdale, who is accused of six offences of making false entries, is serving a four-year prison sentence after being convicted of smuggling drugs. His case was also adjourned until late January.