A Pump for Small Feeds.
9th January 1923
Page 27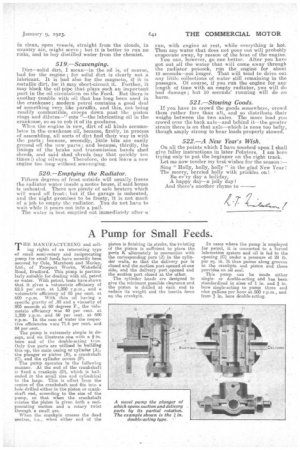 Page 27, 9th January 1923 —
A Pump for Small Feeds.
Close
THE MANUFACTURING and selling rights of an interesting type of small semi-rotary and reciprocating pump for small feeds have recently been itgecured by Cole, Mara-lord and Morley, Ltd., of Prospect Works, Wakefield Road, Bradford. This pump is particularly suitable for dealing with oil, petrol or water. With petrol, tests have shown that it gives a volumetric efficiency of 62.5 per cent. at 1,200 r.p.m., and a volumetric efficiency of 95 per cent. at 600 r.p.m. With thin oil having a specific gravity of .89 and a viscosity of 803 seconds at 60. degrees F., the volumetric efficiency was 40 per cent. at 1,200 r.p.m. and 50 per cent. at 600 r.p.m. In the case of water the respective efficiencies were 71.6 per cent. and 04 per cent. , The pump is extremely simple in do. sign, and we illustrate..one with a
bone and of the double-acting tvpc. Only five parts are utilized in building this up, the main easing or cylinder (A), the plunger or piston (B), a crankshaft (C), and the cylinder covers (F). • The pump operates in tho following manner. At the end of the crankshaft is fixed a crankpin (D), which is ballended in the small size and cylindrical in the large. This is offset from the centre of the crankshaft and fits into a hole drilled either in the piston or crank • shalt end, according to the size of the pump, so that when the crankshaft rotates the piston is given both a reciprocating motion and a rotary twist thinhigh a small arc.
When the crankpin crosses the dead centres, i.e., when either end of the
piston is finishing its stroke, the twisting of the piston is sufficient to place the ports K alternately in connection with the corresponding pors (J) in the cylinder walls, so that the delivery por is closed and the suction port opened atone side, and the delivery port,opened and the suction port closed at the other.
The cylinder heads are designed to give the minimum possible clearance and the piston is drilled at each end to reduce its weight and the inertia force on the crankpin.
In cases where the pump is employed for petrol, it is connected to a forced lubrication system arid oil is fed to the opening (G) under a pressure of 20 lb. per sq. in, It then passes along grooves to the crankpin arid piston and there provides an oil seal.
This pump can be made either singleor double-acting and has been standardized in sizes of 1 in, and f in. bore single-acting to pump three and nine gallons per hour at 500 r.p.m., and
from in. bore double-acting.