A MOTOR COACHING HOLIDAY CLUB
9th January 1923
Page 25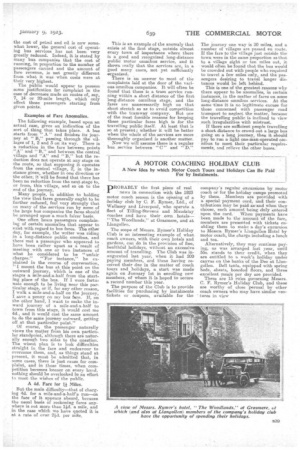 Page 25, 9th January 1923 —
A MOTOR COACHING HOLIDAY CLUB
Close
A New Idea by which Motor Coach Tours and Holidays Can Be Paid For by Instalments.
PROBABLY the first piece of real news in connection with the 1923 motor coach season is the opening of a holiday club by C. F. Rymer, Ltd., of Wallasey and Liverpool, who operate a fleet of Tilling-Stevens and Maudslay coaches and have their own hotels" The Woodlands," at Grasmere, and at
Llangollen. •
The scope of Messrs. Rymer's Holiday Club is an interesting example of what coach owners, with their own hotels and gardens, cart do in the provision of fine, healthful holidays, without an excessive amount of travelling. The Club was inaugurated last year, when it had 200 paying members, arid these having received their due in the matter of coach tours and holidays, a start was made again on January 1st in enrolling new members, of whom it is hoped to secure a record number this year.
The purpose of the Club is to provide facilities for purchasing by instalments tickets or coupons, available for the company's regular excursions by motor coach or for the holiday camps promoted by them. Members are provided with a special payment card, and their contributions may be paid awand when they choose, each amount being duly entered upon the card. When payments have been made to the amount of the fare, members are presented with tickets enabling them to make a day's excursion to Messrs. Rymer's Llangollen Hotel by motor coach, the charge including a lunch and tea.
Alternatively, they may continuo paying, as was arranged last yeas, until 55s. stands to their credit, when they are entitled to a week's holiday under canvas on the banks Of the Dee at Llangollen. Bell tents, equipped with spring beds, sheets boarded floors, and three excellent meals per day are provided.
There are 15 rules governing Messrs. C. F. Rymer's Holiday Club, and these are worthy of close perusal by other coach owners who may have similar ventures in view