Duralumin for Bodywork.
9th January 1923
Page 22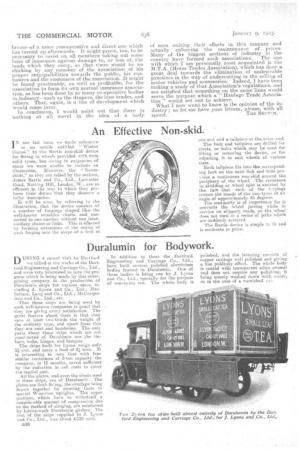 Page 22, 9th January 1923 —
Duralumin for Bodywork.
Close
DURING a recent visit to Dartford we called at the works of the Dartford Engineering and Carriage Co., Ltd., and were very interested to note the progress whichis being made by this enterprising company in the production of Durainmin skips for various users, including J. Lyons and Co., Ltd., Macfarlane, Lang and Co., Ltd.; McCorrinodale and Co., Ltd., etc.
That these .Skips are being used by such well-known companies is proof that they are giving every satisfaction. The great feature about them is that they save at least two-thirds the weight of the ordinary type, and apart from this they are neat and handsome. The only parts about those skips which are not constructed of Duralumin are the tie.. bars, locks, hinges, and hangers.
The skips built for Lyons weigh only 2a cwt. and carry a load of 21 tons. It is interesting to note that with four similar containers of 3-ton capacity the company, in 15 months, saved sufficient by the reduction in rail costs to cover the capital cost. All the plates, and even the rivets used in these skips, are. of Duralumin. The plates are flush fitting, the overlaps being drawn together by riveting them to special W-section uprights. The upper portions, which have to withstand a considerable amount of compression due to the method of slinging, are reinforced by lattice-work Duralumin girders. The cost of the skips supplied to J. Lyons and Co., Ltd., was about 3-1130 each.
B36 In addition to these the Dartford .Engineering and Carriage Co., Ltd., have built se.verai polished aluminium bodies framed in Duralumin. One of these • bodies is being run by J. Lyons and Co., Ltd., specially for the purpose of conveying tea. The whole body is
polished, and the lettering consists of copper castings well polished and giving a fine publicity effect. The whole body is coated with transparent :silks) enamel and does not rennire any polishing, it being merely washed down with water, as in the case of a varnished car:.